Students from BRI countries seek 'China dream' in Yizhou
By (chinadaily.com.cn)
2019-10-30
Dozens of students from countries along the Belt and Road Initiative (BRI) are seeking their "China dreams" at Hechi University in Yizhou district, Hechi, Guangxi Zhuang autonomous region.
To further expand international educational exchanges, Hechi University launched its Business English undergraduate program for the first time in 2017 for overseas students. To date, over 200 international students from Russia, Uzbekistan, Tajikistan, Nepal, and Bangladesh have been studying at the school.
Courses in both Chinese and English are being taught for the international students.
Ling Yun, a Liberian student studying at Hechi University, can speak fluent Chinese but passing the Level-4 Exam for the Hanyu Shuiping Kaoshi (HSK), the Chinese proficiency test, has troubled him.
"Chinese is so difficult to read and write! Now I have to practice writing Chinese characters and reading Chinese books every day," said Ling.
In addition to language training, the university pays great attention to cultivating overseas students' understanding and identification of Chinese culture. Students were taken to the celebrations of the Sanyuesan Festival and the moon worship activities during the Mid-Autumn Festival.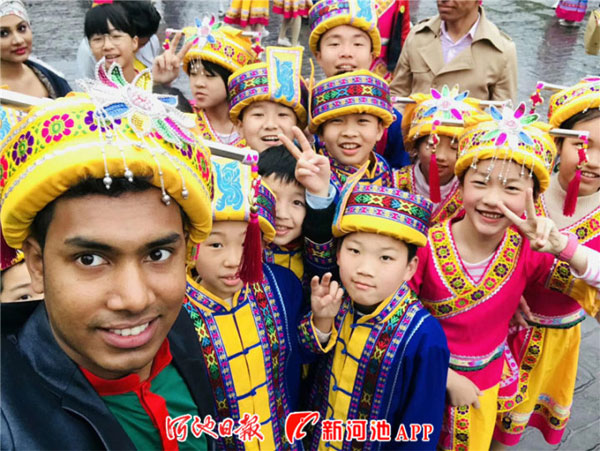 Overseas students in traditional costumes of the Zhuang people take photos with children from Yizhou, Hechi. [Photo/Hechi Daily]
"My family all likes China and Chinese culture very much," said Huang Ziyan from Russia. "What attracts me most to Yizhou is its long history and splendid culture."
Huang added that Chinese food is very delicious, and that he likes spicy hot pot and kung pao chicken the most. He plans to continue his career as a businessman in China after graduation.
Wei Hua from Uzbekistan has watched many Chinese movies and TV series, and learnt a lot about Chinese celebrities like Jackie Chan, Bruce Lee, and Jack Ma.
After watching the movie Liusanjie online, he was deeply attracted by the beautiful and kind-hearted Liu Sanjie, a legendary female folk singer of Guangxi's Zhuang ethnic group, and came to study in her hometown Yizhou.
Now Wei can not only speak fluent Chinese, but can also communicate with local friends in the dialect of the Zhuang people. He added that he hopes to become a businessman in China after graduation.
"China boasts deep cultural deposits, as well as developed science and technology, and transportation," said Sha Kai from Uzbekistan. "I will try to learn Chinese well and become a good messenger of cultural exchanges between China and Uzbekistan in the future."
Zhao Yiman from Ethopia stated that she wanted to bring the knowledge and technologies she learnt in China back to her home country after she finishes her further studies in China. "I also hope to promote further exchanges and cooperation between the two countries in the economic and trade field," she added.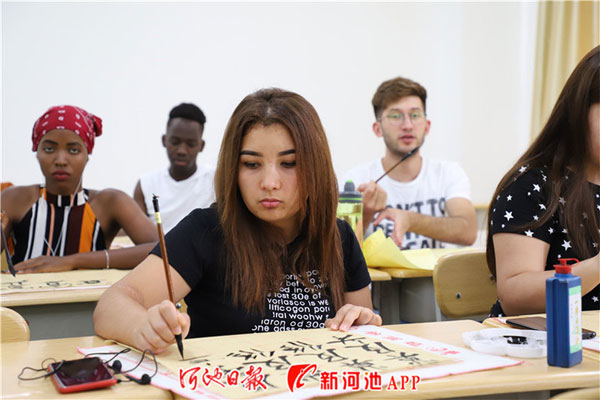 International students at Hechi University practice writing calligraphy. [Photo/Hechi Daily]