Hechi holds 10th Liu Sanjie Cultural Tourism Festival
By (en.gxzf.gov.cn)
2019-10-25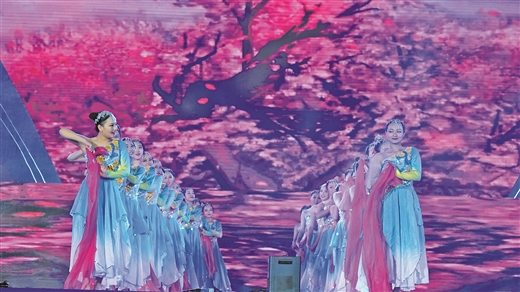 Brilliant performances are staged at the opening ceremony of the 10th Liu Sanjie Cultural Tourism Festival. [Photo by Gao Dongfeng/Guangxi Daily]
The 10th Liu Sanjie Cultural Tourism Festival started in Yizhou district, Hechi, Guangxi Zhuang autonomous region on Oct 18 and will last until Nov 30, promoting the charm of Liu Sanjie, a legendary Chinese folk song singer from the Zhuang ethnic group, as well as the rich ethnic culture of Guangxi.
This year's event focuses on 12 activities, including the 2019 Guangxi Natural Cliff Climbing Competition, the opening ceremony of the 10th Liu Sanjie Cultural Tourism Festival, a creative design competition of cultural and tourism commodities, mass art performances, folk arts exhibitions, symphony concerts, as well as tourism promotions.
Yizhou district, Hechi is the hometown of Liu Sanjie. As the festival has been held for 10 years, it has not only greatly enriched the cultural life and festival activities of the public, but has also promoted the formation of the Liu Sanjie Culture City tourism brand.
From January to September this year, Yizhou has received more than 5.48 million domestic and foreign tourists, an increase of 30.52 percent over the same period last year. The total tourism revenue was 8.42 billion yuan ($1.19 billion), a year-on-year increase of 31.99 percent.