Guangxi partner to develop digital fund town
By (chinadaily.com.cn)
2018-12-17
London-based Global Switch Limited, a world-leading data facility operator, signed an agreement on Dec 6 with Bama Yao autonomous county in Hechi city to develop the first digital town focusing on funding operations in the Guangxi Zhuang autonomous region.
The Shenzhen-Bama Big Health Cooperative Special Pilot Zone in Bama was chosen as the site for the town. Both parties envision an intelligent industrial base that will attract a number of high-end internet and internet of things (IoT) enterprises that are strong in big data and cloud computing technology.
Global Switch will build 50,000 equipment cabinets to accommodate 1 million servers, aiming to provide one-stop service ranging from data processing and storage to data exchanges and operations.
According to the agreement, a China-ASEAN Digital Economy Industrial Guidance Fund will be jointly established to fund the project. In its late development stages, the town will serve as an international data exchange center targeting members of the Association of Southeast Asian Nations (ASEAN), a cross-border e-commerce hub, and a Beidou navigation service center.
Guangxi has commercialized the electric power trade to further benefit the region's big data centers. According to a local official, the electricity price has been reduced from 0.6 yuan (8.7 cents) to 0.35 yuan per kilowatt-hour.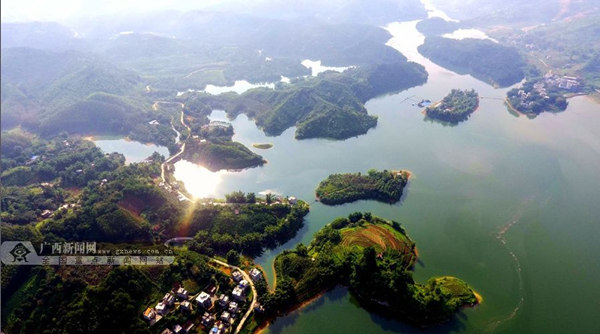 Cifu Lake in Bama Yao autonomous county, Hechi [Photo by Gao Dongfeng/gxnews.com.cn]