60th anniversary celebrations underway in Guangxi
By Cheng Si (chinadaily.com.cn)
2018-12-11
South China's Guangxi Zhuang autonomous region is celebrating its 60th anniversary with a grand dance performance and exhibitions held in its capital city, Nanning.
Wang Yang, the nation's top political adviser, spoke at the celebration show on Monday that Guangxi has counted great achievements over the past decades with great endeavor by its people.
He said that the region's GDP, back in 1958, was only 2.45 billion yuan ($360 million), but surged by 832 times to nearly 2.04 trillion yuan last year, seeing a boom both in its economic and social development.
Guangxi , founded in 1958, is one of the nation's five autonomous regions, with the other four being Tibet, Inner Mongolia, Ningxia and Xinjiang.
The region is now home to about 50 million people from 12 ethnic groups, including Han, Zhuang, Yao and Miao, and is recognized as the provincial-level area with most ethnic minorities nationwide.
Activities have been organized to celebrate the region's 60th birthday. For example, an exhibition themed on cultural relics preservation has been open free to the public since Saturday. The exhibition will go on till March 3, according to the government.
Residents in Guangxi also will enjoy a two-day vacation on Monday and Tuesday to celebrate the region's 60th anniversary, the government said.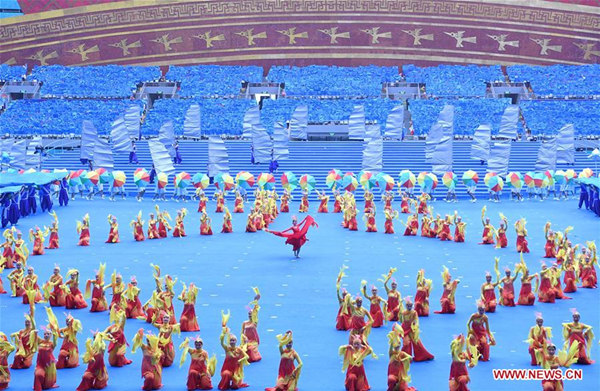 Dancers perform in a grand gathering held to celebrate the 60th anniversary of the founding of Southwest China's Guangxi Zhuang autonomous region in Nanning, capital of Guangxi, Dec 10, 2018. [Photo/Xinhua]