China-Myanmar gas pipeline makes breakthrough in Hechi
By (chinadaily.com.cn)
2018-11-07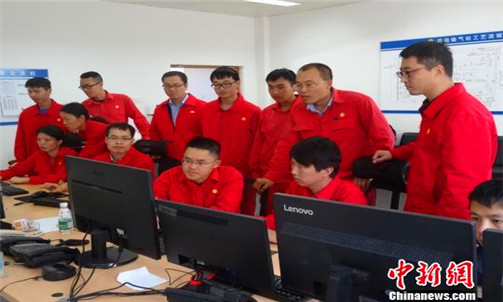 With the solidarity and cooperation of workers, the project is finished on time. [Photo by Yang Ke/chinanews.com]
A compressor project in Hechi, one of the major projects of the China-Myanmar gas pipeline in Guangxi, was completed and put into operation on Nov 2, according to news released by the government.
Started on March 6 of this year, the gas pipeline project was established on the site of the original gas transmission station in Hechi following reconstruction and extension by the project team. As a key part of the Zhongwei-Guiyang-Guangzhou gas transmission channel, the Hechi project was expected to make full use of the spare capacity of the National Offshore Oil Corporation and the Sinopec Group's Guangdong and Guangxi branches. It will help to ease the delivery of natural gas in northern China during winter, as well as convey clean energy to Guangdong province under the coordination of Wuzhou compressor equipment in the Guangzhou-Nanning main branch, ensuring the gas demand in Guangdong province and Hong Kong is met during in peak seasons.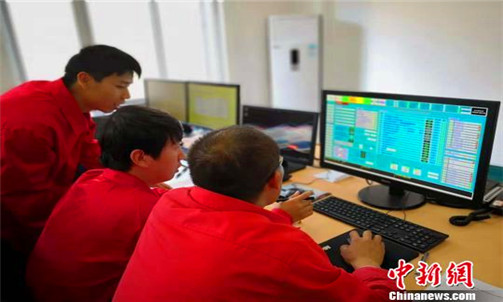 Workers monitor the operation of the compressor. [Photo by Yang Ke/chinanews.com]
With further reform of the national policy "coal-to-gas switch", the demand for natural gas has been increasing in recent years, and the National Development and Reform Commission has redoubled efforts to ensure sufficient natural gas is on hand to meet the nation's increasing demand.
In order to provide a stable energy supply to Guangxi, the Sinopec Group has taken full advantage of the already-built network systems, aiming to achieve a reliable supply of natural gas as soon as possible, helping the region integrate into the construction of the Belt and Road Initiative.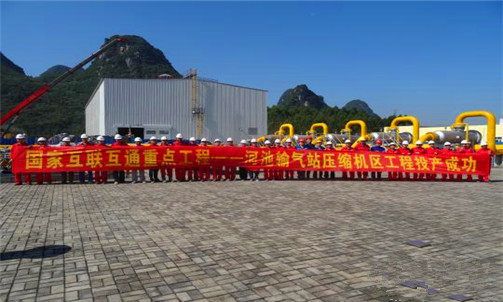 Workers take a group photo in celebration of the compressor project in Hechi being put into operation. [Photo by Yang Ke/chinanews.com]