Maonan elements shine in Guilin
By (chinadaily.com.cn)
2018-11-06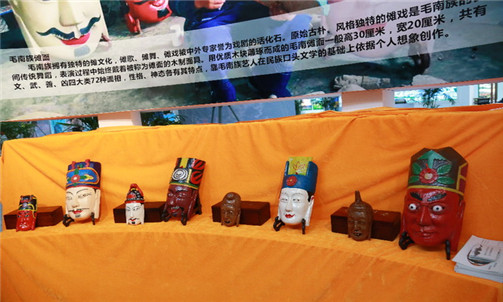 Nuo masks are entirely hand-made with fine workmanship, wowing visitors at the 2018 China-ASEAN Expo Tourism Exhibition. [Photo/Xinhua]
On Oct 26, the opening ceremony of the 2018 China-ASEAN Expo Tourism Exhibition, held in Guilin, Guangxi Zhuang autonomous region, attracted more than 800 exhibitors and 160,000 visitors from home and abroad.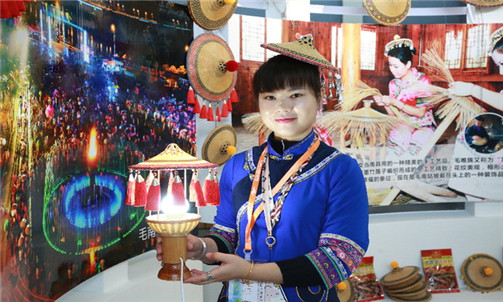 A Maonan woman shows visitors a table lamp made of bamboo. [Photo/Xinhua]
At the ceremony, a Maonan-themed exhibition organized by Huanjiang Maonan autonomous county in Hechi wowed visitors with displays of Maonan intangible cultural heritages. The items included Chinese-style conical bamboo hats, Nuo Opera masks, bronze drums, Minglun fragrant pigs and camellia oil, as well as traditional folk dances.
Visitors also had
a chance to experience the characteristic tourism resources and culture of Huanjiang.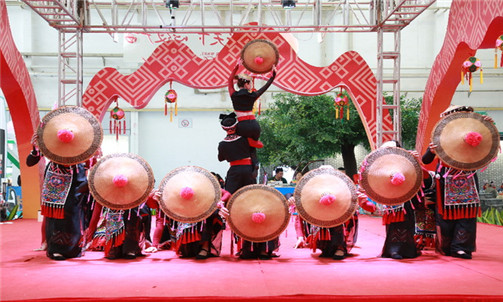 A folk dance is performed by Maonan ethnic women wearing patterned bamboo hats created by intertwining strips of the plant. [Photo/Xinhua]