Best places in Hechi for autumn outings
By (chinadaily.com.cn)
2018-10-25
Renowned for its culture and folk customs, Hechi city in Guangxi Zhuang autonomous region has plenty of tourist resources that are waiting to be developed, from its magnificent karst formations, mountains and rivers, to its lakes and colorful primeval forests. Autumn is on its way and the best time for travel is coming up. If you are eager to get away from the hustle and bustle of city life, come to Hechi to find a peaceful place to rest and meditate.
1. Bama Cifu Lake International Longevity Resort Town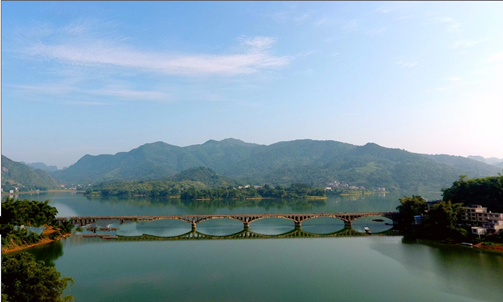 Measuring 396 by 39 meters, Cifu Bridge divides the lake in two. [Photo by Gao Dongfeng/gxnews.com.cn]
Cifu Lake is located in the northwest of the Bama Yao autonomous county, Hechi, South China's Guangxi Zhuang autonomous region. The lake is an artificial creation, stretching over 5,000 meters. Surrounded by green mountains, Cifu Lake looks like an emerald sparkling among the wild landscapes of the region. Bama Cifu Lake International Longevity Resort Town, an ideal holiday resort for recreation and recuperation, only opened last year but has already become a nationally well-known holiday resort.
2. Danquan Dongtian Jiuhai Leisure Vacation Resort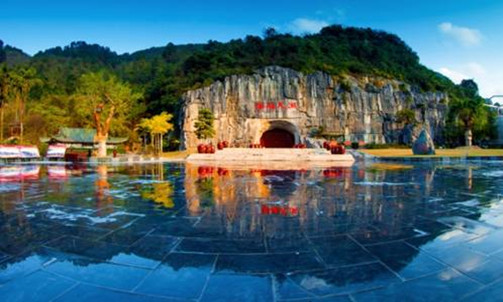 Situated in a county with over a dozen diverse ethnic groups, the resort is surrounded by abundant tourism resources. [Photo/Xinhua]
Danquan Dongtian Jiuhai Leisure Vacation Resort, a national 4A-level scenic spot, covers an area of 1.5 square kilometers and is a comprehensive tourist attraction integrating science popularization, sightseeing, leisure and cultural exhibits, and experiences. Located in Nandan, a county comprised of 13 ethnic groups, the resort has taken full advantage of the county's abundant tourism and natural resources. With an investment of 350 million yuan, it has grown into a unique tourist resort, attracting crowds of visitors to admire the distinctive karst landscapes.
3. Longtan Grand Canyon Forest Park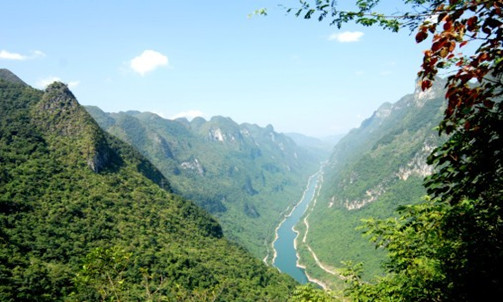 Mountains shrouded in morning mist. [Photo/forestry.gov.cn]
Longtan Grand Canyon, flanked by steep mountain peaks on both sides, covers an area of 20 square kilometers. With a forest coverage rate of over 95 percent, it is home to many different kinds of species, including nearly 30 national key protected plants and 600 kinds of higher plants. Called the "forest that floated above the city", the park has a pleasant climate and enjoys abundant rainfall all the year round. As a typical karst landform, the park features canyons, forests and waterscapes within a well-preserved ecological environment, showing visitors a rich and diverse slice of nature.