Hougu Dance master spends four decades keeping Yao culture alive
By (chinadaily.com.cn)
2018-10-10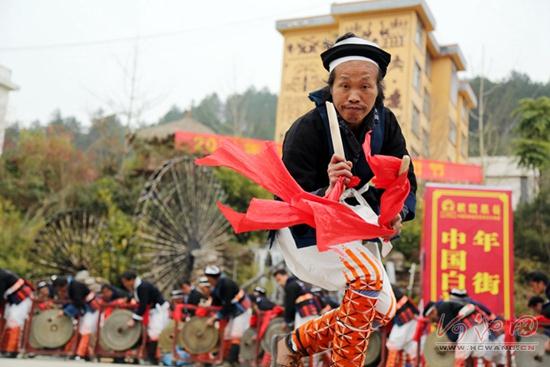 Li Fangcai performs Hougu Dance [Photo by Fu Longqiang/hcwang.cn]
Li Fangcai, 54, has spent over 40 years devoted to the promotion of the Hougu Dance. Li is a member of Baiku Yao, a branch of the Yao ethnic group, and the Hougu Dance is an intangible part of Yao culture practised by many minority members.
The Hougu Dance is usually performed during funerals, accompanied by bronze drums played under the command of a monkey drum (Hougu), which has been placed in the centre. The performer will imitate the monkey drummer's actions and use two 30-centimeter-long drumsticks to beat the drum.
Li Fangcai has been obsessed with the Hougu Dance since he was 10 years old and used to watch it being performed. He was later taught it by elders and became proficient in both the dancing and drumming.
To date, Li has performed in cities all over China, including Beijing, Shanghai and Guangzhou, and has won many prizes. Following an invite from the Chinese National Museum of Ethnology, Li and his team even went to France in 2008, giving performances twice a day in Paris in April and May.
In 2012 and 2014, the Hougu Dance was entered into provincial and national intangible cultural heritage protection lists. Li now teaches the dance to Yao teenagers in order to pass on his knowledge and keep the tradition alive.