Dahua to celebrate 30th anniversary
By (chinadaily.com.cn)
2018-09-29
Hechi city will hold the 19th Hechi Bronze Drum and Folk Song Art Festival from Oct 20 to 22 in Dahua county to celebrate the county's 30th anniversary, according to a news conference in Nanning, capital of the Guangxi Zhuang autonomous region, on Sept 29.
The conference attracted more than 20 media outlets from all over the country including Xinhua News Agency, People's Daily, China Daily, China Central Television and Hong Kong Takungpao.
This year marks the 40th anniversary of reform and opening-up in China, the 60th anniversary of the founding of the Guangxi Zhuang autonomous region and the 30th anniversary of the Dahua Yao autonomous county. Hechi city will host a series of events to show people the changes and progress in Dahua over the past three decades.
Covering an area of 2,716 square kilometers, Dahua has a population of 479,000 people. Relying on its abundant resources, it has earned a reputation as the "Chinese Town of Longevity" and the "Hometown of Yao Culture". The county spares no efforts to promote its tourism industry and through years of hard work, it has made great achievements in economic development and turning the county into a beautiful and highly livable area.
Since 1999, the art festival has become the largest-scale cultural gala in Hechi, providing the city with an important window to cooperate and communicate with the outside world. This year's festival will include an evening launch party, a cultural heritage show, an art show, a folk song competition, a calligraphy and painting exhibition and an awards show. It is expected to be a great opportunity for visitors to gain some insight into Hechi and Dahua culture while giving the local tourism industry and economy a strong boost.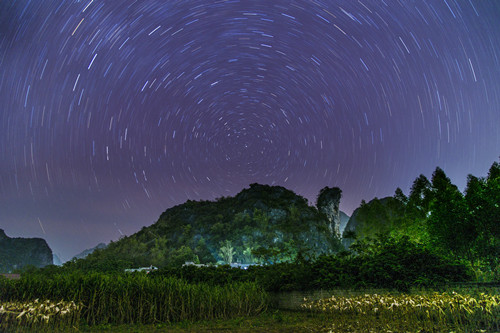 Dahua countryside at night [Photo provided to chinadaily.com.cn]