Beauty pageant shines in Huanjiang
By (chinadaily.com.cn)
2018-09-28
The 68th Miss World China Finals, Guangxi Division, was held in Huanjiang Maonan autonomous county, Hechi, Guangxi Zhuang autonomous region, on Sept 22, attracting global attention.
Starting from 1951, it has become an annual fashion cultural festival of international influence. With the theme of "Beauty with a Purpose", this year's pageant aims to promote world peace and culture communication, and help starving and disabled children.
The Maonan ethnic costume fashion show was the biggest hit in the competition. A debut of Maonan traditional clothes, it was divided into the five sections of Chinese formal dresses, swimsuits, ethnic costumes, evening dresses and contestants' talents.
Apart from the colorful activities on the stage, the competition also enabled models to promote scenic spots and distinctive agricultural products of Huanjiang through live-streaming, which offered netizens a chance to appreciate both the beauty pageant and the county's stunning landscapes.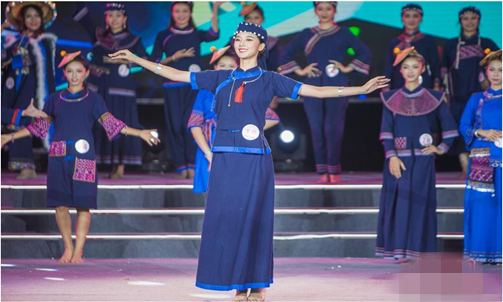 Contestants wear Maonan traditional clothes depicting the ethnic customs of the county. [Photo by Chen Guanyan/chinanews.com]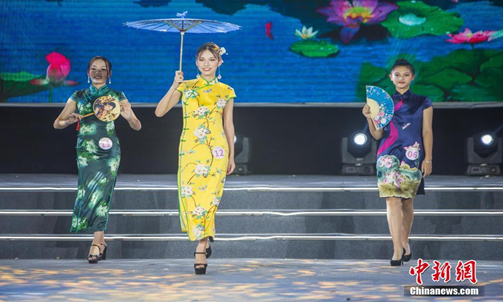 Contestants in Qipao, a form-fitting Chinese dress, during the 68th Miss World China Finals, Guangxi Division, on Sept 22 [Photo by Chen Guanyan/chinanews.com]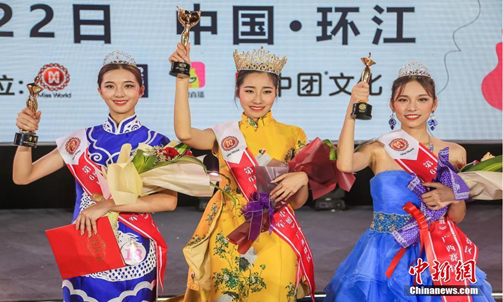 The top three of the competition [Photo by Chen Guanyan/chinanews.com]