Guangxi's first youth aviation flight base settles in Du'an
By (chinadaily.com.cn)
2018-08-03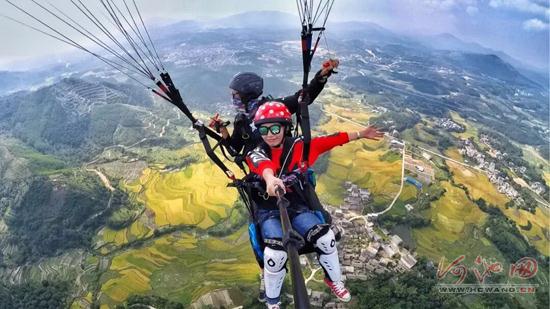 A teenager experiences paragliding accompanied by a coach from Guangxi's first youth aviation flight base in Du'an Yao autonomous county. [Photo/hcwang.cn]
A youth aviation flight base was recently stationed in Du'an Yao autonomous county in Hechi, the first of its kind in Guangxi Zhuang autonomous region.
Located to the southeast of the Three Island Bay International Resort, the base covers over 250 mu (16.67 hectares), with a total investment of 120 million yuan ($17.75 million). It integrates urban fitness leisure, camping, accommodation, dining, shopping, entertainment and sightseeing, aiming to be a model base where teenagers can study while enjoying a new environment.
The first-stage project has already accomplished four zones with an investment of 50 million yuan, including a 600-meter- runway, a camp accommodation area with motor homes, an ecological parking space and a scenic drive. The second-stage project is still under construction and is expected to be finished in 2019.