Du'an county celebrates Zhuzhu Festival
By (chinadaily.com.cn)
2018-07-11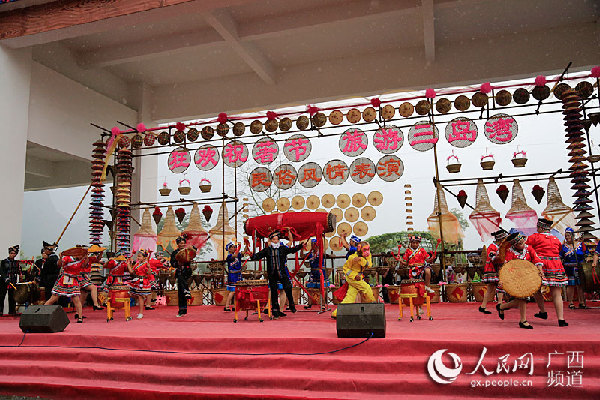 People perform to celebrate the Zhuzhu Festival. [Photo/gx.peolpe.cn]
The Du'an Yao autonomous county in Hechi celebrated the Zhuzhu Festival from July 8 to 10.
Zhuzhu Festival, also called Danu Festival, is the most important traditional festival for the Yao ethnic groups and marks the beginning of a new year. Zhuzhu Festival falls on the 29th of May in the lunar calendar in honor of Miluotuo, the Mother of the Yao ethnic group. The festival is also a national cultural gala demonstrating the profound cultural riches and local ethnic customs of Du'an.
A wide variety of activities is held to celebrate the festival, including playing bronze drums, singing folk songs, visiting Yao villages, and folk custom and culture performances. The most important program in the festival is playing bronze drums and dancing with the beat, and the best dancer is awarded as "King Drummer".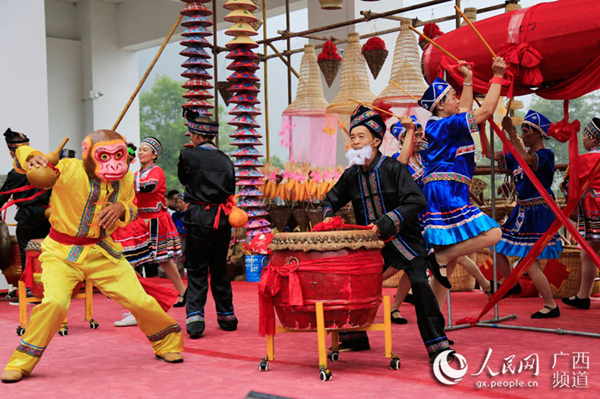 Performers play bronze drums and dance with the beat. [Photo/gx.people.cn]