Raising fish in paddy fields to increase income
By (chinadaily.com.cn)
2018-07-09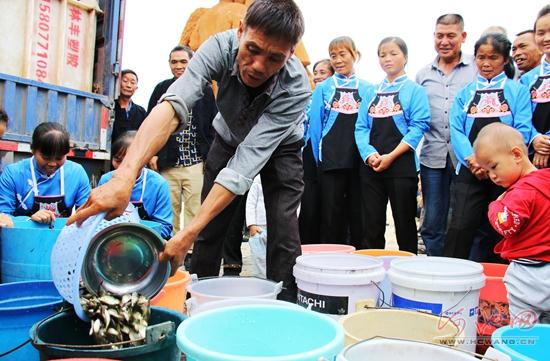 A staff member transfers fish fry. [Photo by Lin Lifeng /hcwang.cn]
The agricultural sector of Baping village, Mangchang town of Nandan county in Hechi, distributed 360,000 fish to more than 1,000 local peasant households on June 29.
Technicians trained peasants to raise fish in paddy fields, and showed them how the activity would increase their income and adjust the ecosystem balance.
Nandan county vigorously promotes planting of rice, fish and ducks and breeding them in stereoscopic mode in order to increase farmers' incomes and revitalize the rural poverty alleviation industry.
So far, it has bred over 700,000 fish and 100,000 newly-hatched ducklings, which almost cover the county's paddy fields. It is also reaching the goal of covering a paddy area of 100,000 mu (6,666.67 hectares) with rice to complete a high quality and efficient rice distribution project by the Ministry of Agriculture.