German delegation joins in festive revelry in Yizhou
By (chinadaily.com.cn)
2018-04-24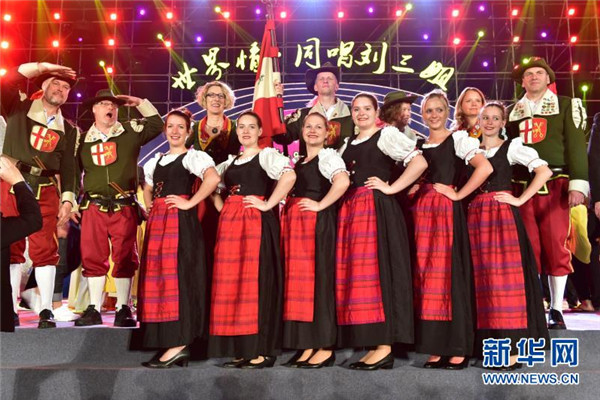 Dancers from Cochem, Germany enthusiastically perform traditional dances. [Photo by Wei Binghua/xinhuanews.com.cn]
A delegation from Cochem, Germany has recently joined Yizhou, Guangxi Zhuang autonomous region in celebrating Sanyuesan, the area's biggest festival.
Led by Cochem's mayor Wolfgang Lambertz, the guests from Germany displayed great zeal as they performed traditional dances. The cultural collision sent sparks flying.
Sanyuesan, celebrated on the third day of the third month of the Chinese lunar calendar, is the most important festival in Guangxi Zhuang autonomous region, the most ethnically diverse place in China. Locals dawn traditional attire and celebrate with cultural activities such as folk songs, beating bronze drums and dancing.
With a history of over 2,100 years, Yizhou district is known as the hometown of legendary folk singer Liu Sanjie and the largest concentration of silkworms in the nation.
It has earned the titles of "Most Attractive Festival City", "China's Most Beautiful Cultural Ecological Tourism City," and "Chinese Longevity Village".
Cochem, a tourist city in West Germany, is famous for its wineries and vineyards.
Yizhou district and Cochem signed a sister-city agreement on April 16, officially initiating exchanges between the two regions in culture, tourism, education and business.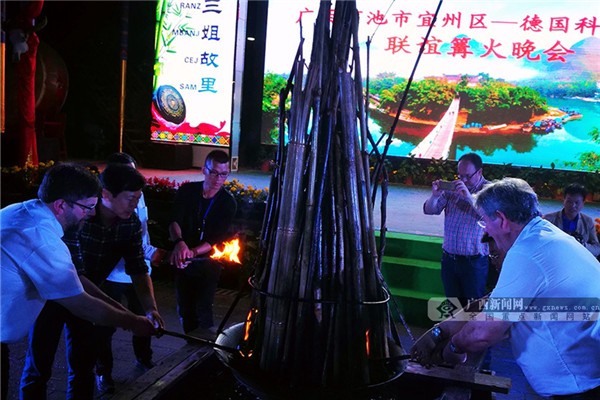 German representatives light the bonfire with their Chinese partners during the celebration in Yizhou, Guangxi Zhuang autonomous region on April 20. [Photo by Gao Dongfeng/gxnews.com.cn]