Traditional ethnic festival travels across Guangxi
By (chinadaily.com.cn)
2018-04-19
The Shangsi Festival, also known as the Double Third Day, is celebrated by the Zhuang ethnic group on the third day of the third lunar month, which falls on April 18 this year.
A total of 1,000 festivities and celebrations featuring ethnic culture, regional traditions, cultural performances and interactive activities have been held across Guangxi Zhuang autonomous region since April 18.
Zhuang people gathered while wearing traditional ethnic costumes to reminisce about ancient heroes and ward off evil spirits, showcasing their unique and vibrant culture.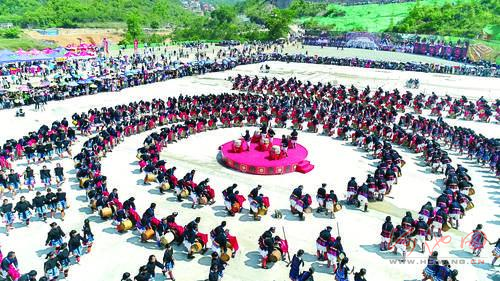 A thousand members of the Zhuang ethnic group arrange themselves in concentric circles as they play a total of 500 bronze drums in celebration of the Shangsi Festival in Nandan county of Hechi, Guangxi Zhuang autonomous region on April 18. [Photo by Huang Kaihun/hecwang.cn]