Lijiang River Cruise From Guilin To Yangshuo- 1 Day
By (chinadaily.com.cn)
2018-04-09
Lijiang River is a shining light among China's tourist attractions and the highlight of Guilin's sightseeing tour. The 83-kilometer journey from Guilin to Yangshuo is an endless symphony of bizarre shapes and unique landforms. There are numerous natural wonders to be seen, giving rise to the slogan "the Guilin landscape surpasses all, and the Yangshuo landscape surpasses Guilin".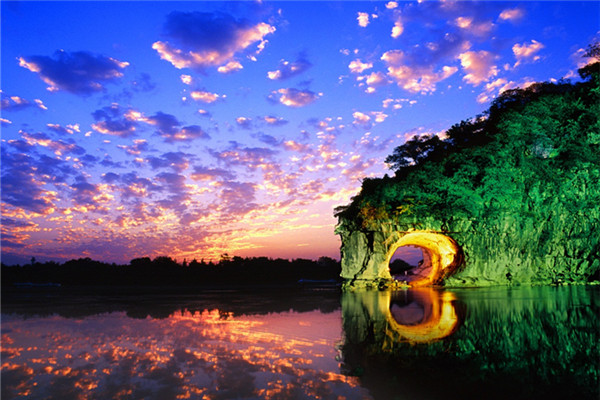 Guilin Elephant Trunk Hill by the Lijiang River [Photo/gxta.gov.cn]
Operating Company: Go China Adventure International Travel Service Co Ltd
Starting point: Guilin
Ending point: Guilin
Group Persons: Min(2)
Departure time: Anytime upon Request
Duration: 1 Day and 1 Night
Service Grade: Luxury
Accommodation: Star Hotel
Transportation: Boat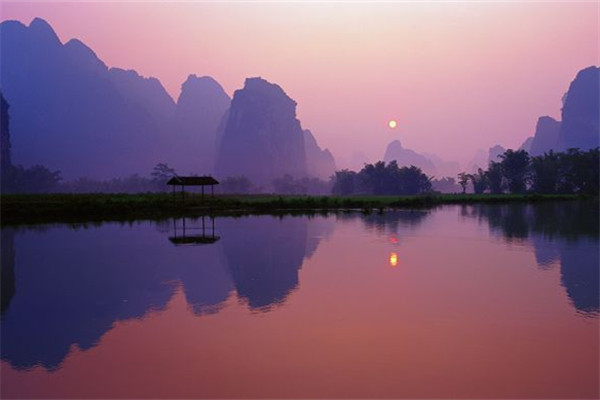 A sunset view of Lijiang River [Photo/gxta.gov.cn]
Day 1: Lijiang River
Your boat will depart from Mopenshan Pier downstream from Guilin in the early morning and arrive in Yangshuo about three hours later. You will have the chance to sit back and take in the crystal-clear waters of the Lijiang River as well as the passing landscape -the lush green mountains, farmlands, sleepy villages and of course the picturesque karst formations unique to the area. The river itself holds many natural wonders, with spectacular deep pools of water, murmuring springs and waterfalls. Narrow bamboo rafts carrying fishermen dot the river, bringing a timeless quality to the tour. Enjoy the vivid blues and greens of the Lijiang River that have long been the inspiration of artists. Disembark in Yangshuo. Stroll along West Street, famous as a "global village" because it receives visitors from every corner of the world. After supper, return to Guilin by boat. On the way you will be treated with an entirely different experience as the sun gives way to the stars and brings to life the breathtaking nighttime scenery of the Lijiang River.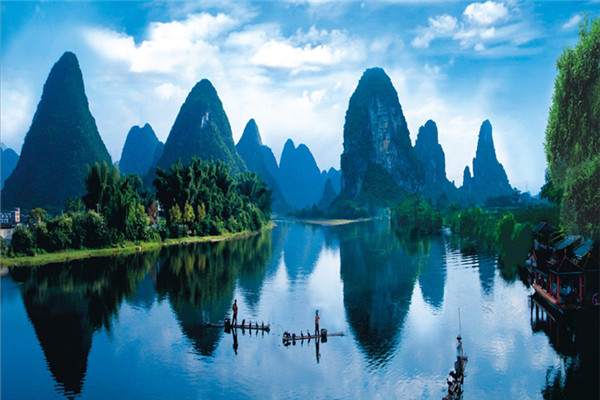 Picturesque karst formations of the Lijiang River [Photo/gxta.gov.cn]