Hilly Tian'e model of modern specialty product farming
By (chinadaily.com.cn)
2017-09-08
Tian'e county in Hechi, a hilly area with poor agricultural conditions, has now grown into a demonstration area for its special agricultural development.
Its 11,993-hectare demonstration area for modern farming serves for freshwater aquiculture and the cultivation of a variety of products including pearl plum, peach, tea and walnut. The field has benefited 81.6 percent of local poverty-stricken households and grown into the pillar industry of the county, while increasing the income of the farmers.
Tian'e's success attracts visiting delegations of more than 30 counties (cities and districts) from Guangxi, Guangdong, Guizhou and Chongqing for hands-on experience. In a lengthy coverage, reporters from Guangxi Daily list a dozen Tian'e tips ranging from reasonable planning, acute industry orientation, government subsidy, technological innovation, cooperative management to agritourism and e-commerce sales.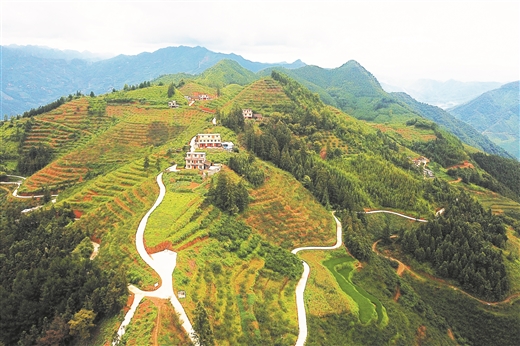 The pearl plum orchard in Longping village, Liupai town.[Photo by Wang Mingfu/Guangxi Daily]
Taking the government support as an example, Tian'e government, since 2014, has expanded the full seedlings subsidy policy for underprivileged homes to all farmers and aroused great enthusiasm among the local farmers for fruit growing. Every year, at least 26 million yuan ($4 million) financial fund of the county goes to the agriculture infrastructure upgrading. For example, a winding mountain road has been built in Wufu village, Bala Yao town, allowing villagers to grow fruits on the mountain.
Tian'e has also been through advances in hi-tech as well as infrastructure. Under the help of Guangxi Science and Technology Department, a cloud platform featuring the integrated irrigation and fertilization system has been put into use. The county has also cooperated with scientific research institutions including Chinese Academy of Sciences and South China Agricultural University to work on technological improvements.
"Good harvest is guaranteed as the humidity and soil texture is under automatic monitoring and occurrence of plant diseases and insect pests will be taken care of by experts," said Ya Daoqian, a farmer from Xiatiandong village in the town.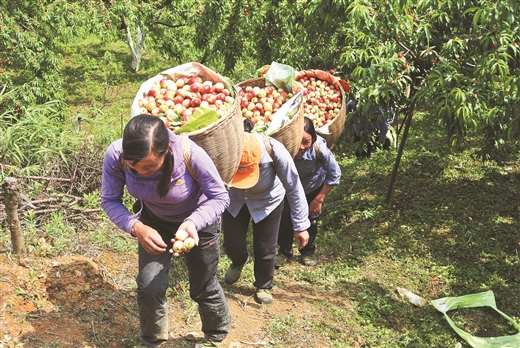 Local farmers harvest peaches. [Photo by Huang Yuansong/Guangxi Daily]
Internet Plus agriculture has opened up a much broader and a rapidly developing market for local products. The e-commerce sales of pearl plum, Tian'e's top specialty product, have surged to 100 million yuan so far this year.
"All the pearl plums have been sold out and the gross income has exceeded 200,000 yuan," said Long Xiucheng of Longping village, Liupai town when looking at this year's revenue on Aug 28. Just until a few years ago, Longping was a poverty-stricken village. Now, 500 families have gotten away from poverty due to plum planting.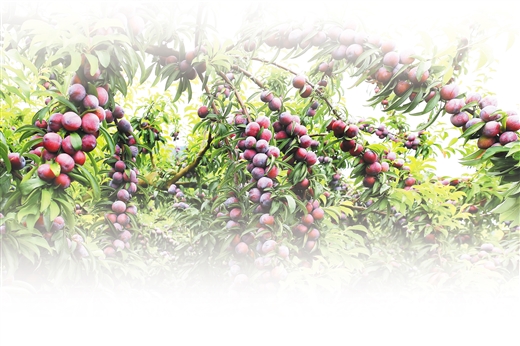 Pearl plums in harvest [Photo by Wang Mingfu/Guangxi Daily]