Maonan culture impresses at Bayreuth Youth Art Festival
By (chinadaily.com.cn)
2017-09-01
Wearing Chinese-style conical bamboo hats decorated with flowers and red dresses, a dozen young ladies of the Chinese Maonan ethnic group sang traditional folk songs at the Bayreuth Youth Art Festival held in the East German town on Aug 21.
The Bavarian audience was impressed by the showcase entitled "Moanan Rhythm", featuring more than 30 young Chinese artists and performers hailing from Huanjiang Maonan autonomous county in the city of Hechi, Guangxi Zhuang autonomous region.
The performance of 13 folk songs marks the first time that the cultures of Maonan, Zhuang, Miao, and Yao ethnic groups have been featured at the prestigious music festival.
The Bayreuth Youth Art Festival, inspired by the Bayreuth Wagner Festival, is held every year in Bayreuth, a small German town where famed composer Richard Wagner resided in his later years and was buried after his death.
The festival, in its 67th year, provides a platform for communication, exchanges and performance opportunities for young musicians from all over the world.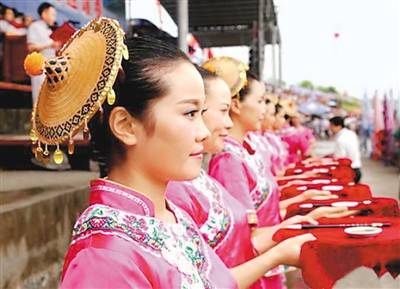 Maonan girls wear bamboo hats. [Photo by Yang Zhixiong/news.china.com]
This year's theme was "the root of the future", and stressed greater understanding of different ethnic and cultural traditions. The Maonan artists were among 500 attendees from around 30 countries invited to showcase their own culture and original art forms.
Sissy Thammer, festival director, was deeply impressed by the Maonan performances. "It is our honor to have invited these artists from this Chinese minority ethnic group," Sissy said. "The unique culture is just one of so many found in China."
She added that she had never heard of Maonan ethnicity before the festival, and was amazed by its colorful clothing, dancing and singing.
With a population of just above 100,000, some 60 percent of all Maonan people live in Huanjiang county of Guangxi Zhuang autonomous region – they are not only excellent dancers but also skilled artisans.
The bamboo hats are decorated with patterns woven into their lining using carefully intertwined strips of bamboo; they are considered an "ethnic treasure". Young women proudly wear the hats on important occasions and often present them as gifts to their loved ones.
The hats, included on China's list of National Intangible Cultural Heritages, are often considered a symbol of happiness and auspiciousness and touch the very essence of Maonan culture.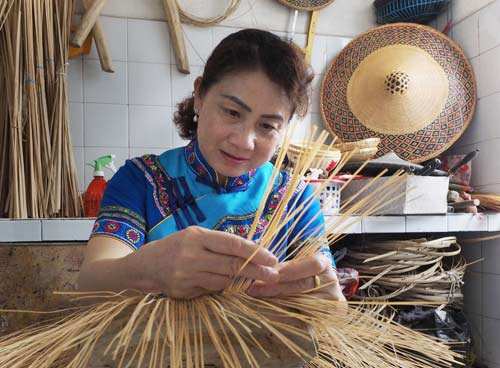 Tan Sujian weaves a bamboo hat. [Photo/Xinhua News Agency]
According to Yang Zhe, deputy county director of Huanjiang, local authorities have made it a priority to preserve Maonan ethnic cultural heritage in recent years. For the hats they have gathered information on weaving techniques, published related guidebooks and held publicity events.
Exhibitions and lecture halls have been built where weaving artisans are encouraged to enroll apprentices and impart their skills. Tan Sujuan, a 50-year-old Maonan woman, and a fifth-generation inheritor of the bamboo hat weaving technique, is one of them.
These days, the bamboo hat has even expanded in international influence. Artisans like Tan have been winning prizes on the international stage, drawing widespread attention in such countries as Japan, Korea, Singapore and Malaysia.