Nandan county tobacco harvest heats up
By (chinadaily.com.cn)
2017-07-26
In Nandan county, a sub-region of Hechi, farmers are busy making flue-cured tobacco leaves, to celebrate a bumper harvest this year.
A total of 16,000 mu (1,067 hectares) of tobacco leaves is promised to bring in earnings of 50 million yuan ($7.4 million) to the Guangxi Zhuang autonomous region county.
Nandan is endowed with a climate and soil that are favorable for the growth of flue-cured golden leaf. In 2016, a total of 656 households were involved planting tobacco covering 14,543 mu (970 hectares).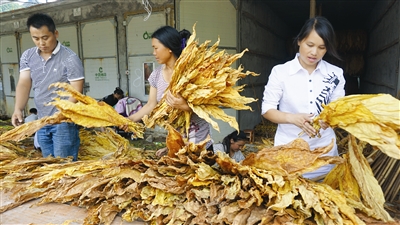 Farmers sort flue-cured tobacco leaves in Nandan county, Hechi, Guangxi Zhuang autonomous region. [Photo by Liu Shichao, Mo Xiaoxiao/Hechi Daily]
In the past, Nandan county was encumbered with backward production methods and facilities, resulting in relatively low yields and poor quality tobacco leaves.
This year has witnessed the city step up its efforts to develop modern tobacco agriculture through a series of measures, with an aim to increase local farmers' income.
Focusing on key production processes, the Nandan government promoted balanced fertilizing techniques, using green manure and organic fertilizer, and comprehensively prevented and managed damage from insects.
The county has created a cooperative, which helps save farmers costs on chemicals and coal through group purchasing, benefiting more tobacco growers.
As a result, the production standards and tobacco quality have greatly improved compared to last year.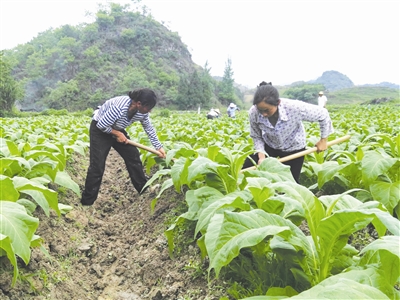 Tobacco growers weed for the flue-cured tobacco leaves in May, 2016, Nandan county, Hechi. [Photo by Luo Zuliang/Xinhua]