Guangxi raises blue rainstorm alert
By (chinadaily.com.cn)
2017-07-06
Continued heavy rain is expected across South China's Guangxi Zhuang autonomous region for the next few days, prompting the meteorological center to issue a blue alert on June 28.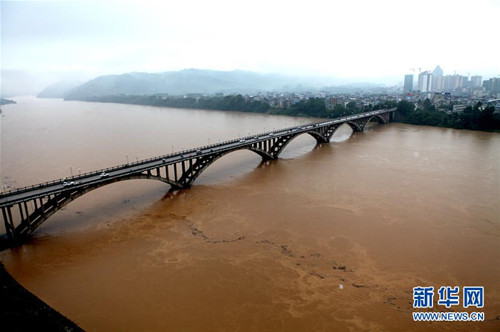 High water levels swell on the Rongjiang River on June 28 after prolonged rain. [Photo by Wei Dingbiao/Xinhua]
Heavy downpours are expected in parts of Yizhou, Guilin, Liuzhou, and Hechi, with precipitation up to 50 millimeters, according to the meteorological center.
The center has warned local residents to reduce outdoor activities and take precautions against flooding, strong winds and geological disasters such as landslides.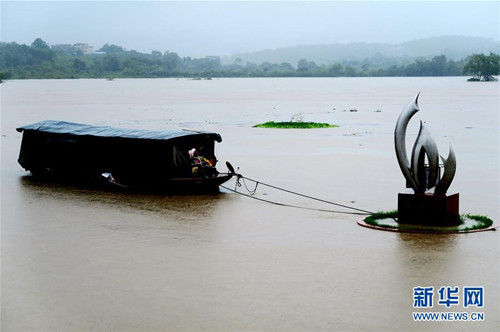 Sanjiangkou Square in Quanzhou county, Guilin, is flooded from continued rains. [Photo by Wang Zichuang/Xinhua]
China has a four-tier color-coded weather warning system, with red the most severe, followed by orange, yellow and blue.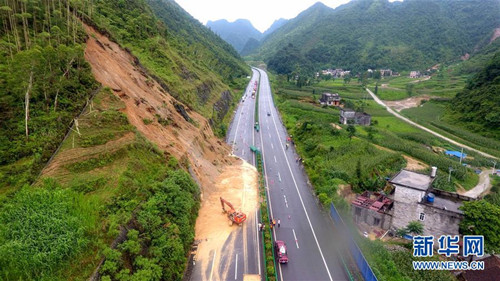 A landslide caused by excessive rain blocks an expressway in Hechi, South China's Guangxi Zhuang autonomous region. [Photo by Gao Dongfeng/Xinhua]