Lantern Festival celebrated in Hechi
By (chinadaily.com.cn)
2017-02-15
The 15th day of the first month of the Chinese lunar calendar, the day of the year's first full moon, has been celebrated as Lantern Festival in China for more than 2,000 years.
The festival fell on Feb 11 this year, and residents of the city of Hechi in Guangxi Zhuang autonomous region were treated to a depth of cultural activities rarely seen in other cities across China.
Thanks to the sheer array of ethnic diversity in Guangxi Zhuang autonomous region, home to 90 percent of the countries' Zhuang, as well as Dong, Miao, Yao, and Yi ethnicities, the area is replete with cultural significance for many people.
In Luocheng Mulao autonomous county, Zhuang women made glutinous rice cakes, similar to tangyuan. Over the years, the cakes have come to represent family reunions and have become all the more significant in a time when migrant workers must leave their families and hometowns in search of work in bigger cities. For some, eating glutinous rice cakes at Lantern Festival might be the last time they eat with their families until the following Spring Festival.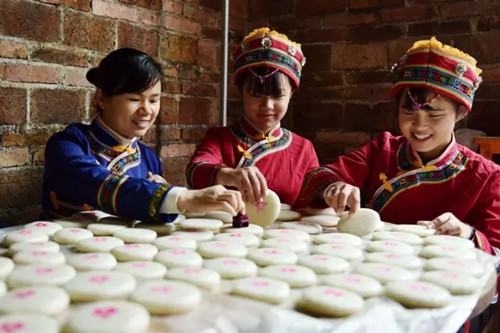 Women in Luocheng Mulao autonomous county stamp their newly-made glutinous rice cakes on Feb 10, the day before Lantern Festival. [Photo/Hechi Daily]
Dotted across public squares and parks in Hechi, fish catching games took place entertaining young and old. Fish are an important symbol associated with Spring Festival and are embodied in the Chinese parable Nian Nian You Yu, which is an expression wishing that every year ends with an ample surplus of food for all families.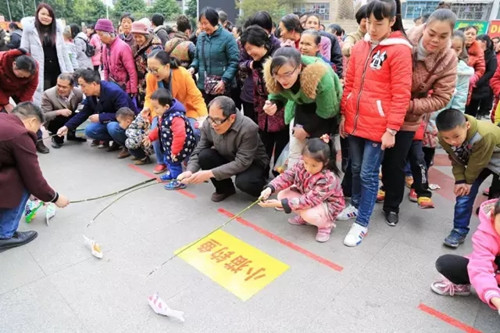 Young and old try to hook a catch during an activity held on Feb 9 at the Cultural Square in Jinchengjiang district. [Photo/Hechi Daily]
The stage was set at Luoxi Township in Yizhou on Feb 9, where members of the community performed a twisting Yangko folk dance. The origin of the dance, which is popular across China, stems from the planting of rice seedlings and is a regular draw card during festivals and times of harvest.
Members of the community in Luoxi township perform the Yangko dance ahead of Lantern Festival. [Photo/Hechi Daily]
As the winter air gave way to the lush spring breeze, tulips at Shuangjiang Resort in Dongping village came into bloom, providing visitors with a chance to immerse themselves in the color and splendor of nature. Admiring tulips is one of popular activities for Hechi people during Lantern Festival.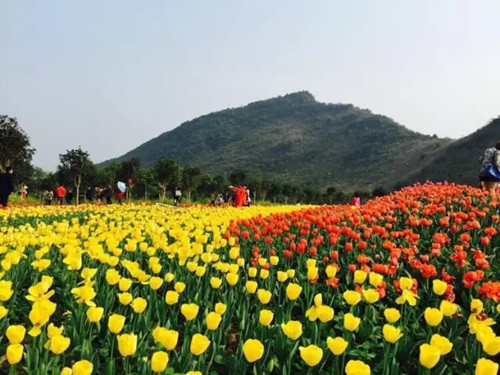 Flower fanciers admire swathes of tulips standing proud in the spring sunshine at Shuangjiang Resort in Dongping village. [Photo/Hechi Daily]