Donglan food products awarded national trademark
By (chinadaily.com.cn)
2017-02-08
Donglan in Hechi, Guangxi Zhuang autonomous region is renowned as a foodie's paradise in South China, and that reputation was further bolstered recently as two of the county's signature snacks gained national recognition.
China's Ministry of Agriculture has awarded geographical indication (GI) certification to Donglan's chestnuts and to its local breed of large black hog. The GI status both indicates that the products enjoy a wide reputation across China, and also acts as a guarantee that local producers follow strict production, processing and safety practices.
Donglan chestnuts are produced at the Donglan Chestnut Production Base, a national-level food-processing plant. The nuts come in two colors, red and purple, and are both renowned for their big size, beautiful color and good taste.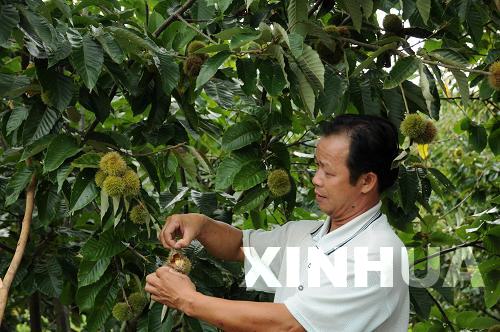 A farmer picks chestnuts in Donglan, Guangxi Zhuang autonomous region. [Photo/gx.xinhuanet.com]
In recent years, the Donglan government has supported the chestnuts industry by allotting more land, optimizing the plantation area, and providing technical support and marketing guidance for local farmers. Donglan also pays attention to improving quality by carrying out a number of measures, including top-grafting.
Donglan's chestnuts planting area has nearly quadrupled from 89,000 mu (5,933 hectares) in 2000 to 325,000 mu in 2016, with an annual production of 21,000 tons and revenue of 120 million yuan ($17.48 million).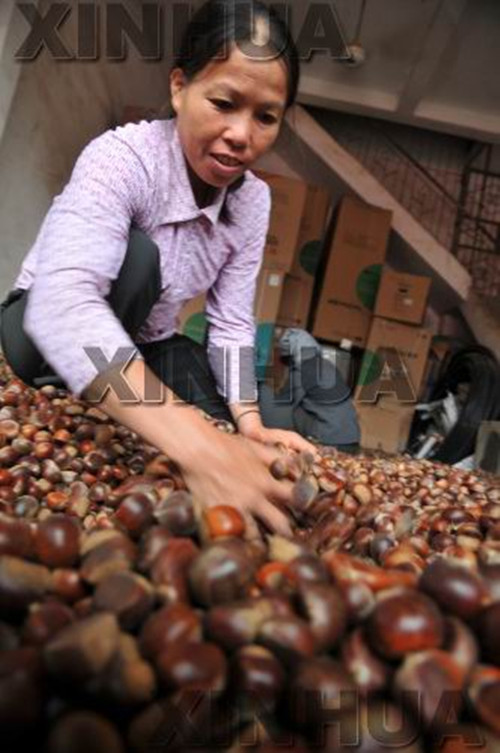 A woman harvests chestnuts in Donglan, Guangxi Zhuang autonomous region. [Photo/gx.xinhuanet.com]
The county's other freshly-certified food, the large black hog, was originally introduced to the area from the West. Donglan, with a forest coverage of over 76 percent, has proved to be an ideal place for raising the large black, as the breed's strong appetite means it is best suited to pasture-based farming.
Its meat is renowned for its lean texture and sweet flavor with little back fat, which makes it more popular among China's increasingly health-conscious consumers.
According to statistics, Donglan raises 123,000 large blacks every year, reaping a total revenue of 180 million yuan.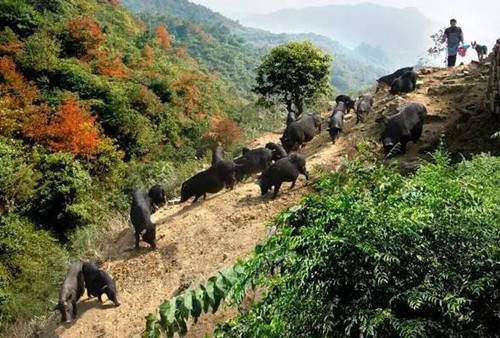 A group of large black hogs forage in the hills in Donglan county, Hechi, Guangxi Zhuang autonomous region. [Photo/Hechi Daily]