Huanjiang invests 20m yuan in flood bank
By (chinadaily.com.cn)
2016-03-01
Construction of the flood bank of the Zhongzhou River in Huanjiang Maonan autonomous county, Hechi, Guangxi has recently completed.
The Zhongzhou River flows from Dongxing town, through Changmei village, to Longjiang River in Hechi. In the flood season every year, more than 12,000 local people are threatened by flooding.
To solve the problem, Huanjiang invested nearly 20 million yuan ($3.06 million) to build the 7.5-kilometer flood bank, starting construction in September 2014.
The flood bank increases Dongxing town's flood control capacity, which helps ensure personal and property security of the area.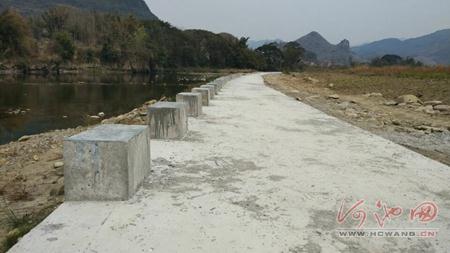 The newly constructed flood bank of the Zhongzhou River in Huanjiang Maonan autonomous county in Hechi [Photo by Long Zhaojiang / hcwang.cn]
Edited by Owen Fishwick