Luocheng suffers rainstorm again
By (chinadaily.com.cn)
2015-05-21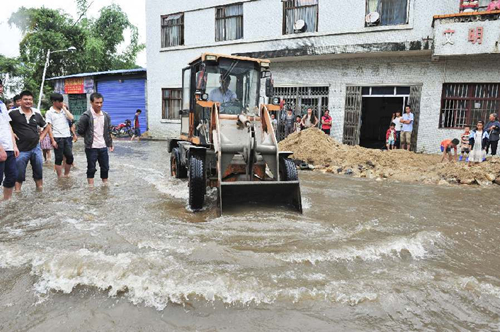 People in Luocheng clear streets after the rainstorm on May 20. [Photo by Liao Guangfu/Luocheng Mulao autonomous county Party committee publicity department]
The Luocheng Mulao autonomous county in Hechi, Guangxi, suffered another round of rainstorm early on the morning of May 20.
The maximum rainfall reached 237.2 millimeters and several villages and towns had over 100 millimeter rainfalls. The rain in Baotan, Huangjin and Long'an stood at over 220 millimeters.
The peak water level at Xiaochang'an Hydrologic Station was 0.74 meters over the warning line, a level that occurs about once every 10 years.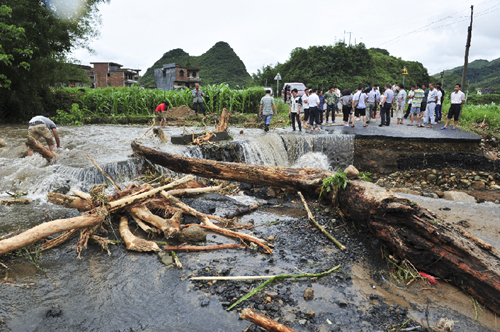 People make urgent repairs on a road destroyed by rain on May 20. [Photo by Liao Guangfu/ Luocheng Mulao autonomous county Party committee publicity department]
The rain caused debris flow disasters and destroyed many roads, streets and farmlands. Local residents and government officials were mobilized to reduce damage in time and achieved some results.
Edited by Andrew Ancheta