News
In Weiyuan, strawberry farming offers hope for the future
Updated: 2016-10-28
( chinadaily.com.cn )
At the intersection of the Tibetan and Loess plateaus lies Weiyuan county, an administrative district in Gansu province. Barrenness and droughts caused by its high altitude has cursed generations into a viscous cycle of poverty.
It's no longer the case, as local businesses especially the farming have benefited from new and innovative developments.
This year, a Taiwan business man Liu Zhaoxiang came to Weiyuan to develop a strawberry growing plantation. A cooperative of specialized farmers was set up by erecting 36 greenhouses with the climate control technology.
The venture has so far proved a success. Strawberry farmers have typically earned a gross income of more than 7,000 yuan ($1,032.57), dwarfing the salary of many other farmers in the region.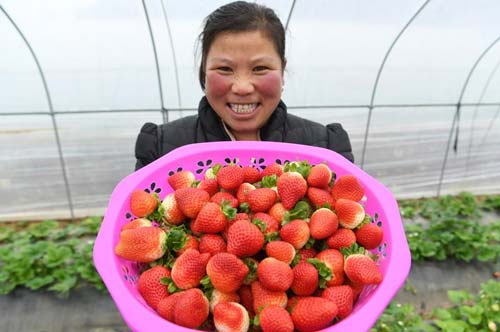 Yong Xiaolin, a farmer from Weiyuan county, Dingxi city, Gansu province, presents her strawberries on Oct 27. [Photo/Xinhua]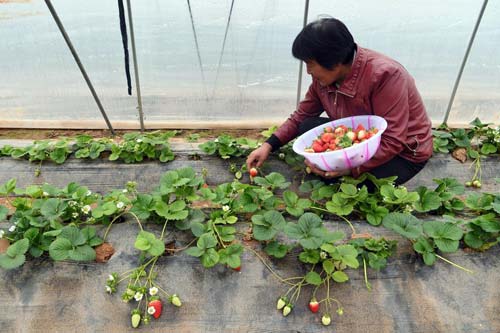 Yong juping, a local farmer from Weiyuan county, Dingxi city, Gansu province, picks up strawberries from her greenhouse on Oct 27. [Photo/Xinhua]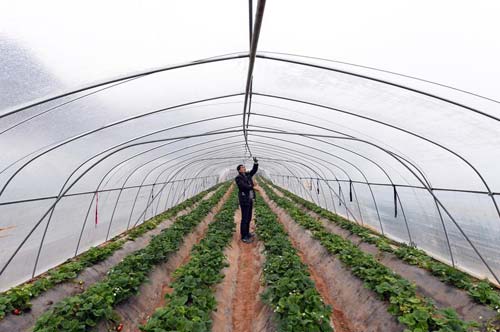 A local farmer from Weiyuan county, Dingxi city, Gansu province, installs an insulating layer on his greenhouse on Oct 27. [Photo/Xinhua]
Edited by Jacob Hooson