News
Lanzhou turns on central heating system 3 days in advance
Updated: 2016-11-01
By Ge Jieru ( chinadaily.com.cn )
A recent cold spell in northern China prompted authorities in Lanzhou to turn the city's central heating system on Oct 29, three days earlier than planned.
In general, Lanzhou starts to provide central heating from Nov 1 until March 31 the following year.
China's heating policy differs widely from other countries. As early as in the 1950s, the central government drew a line across the country to determine areas of the country permitted to have central heating. Areas located above the line in the north are provided with central heating systems and can access subsidies from the government.
According to the Lanzhou branch of China Guodian Corporation, the city has upgraded its heating system to a low-carbon emissions one.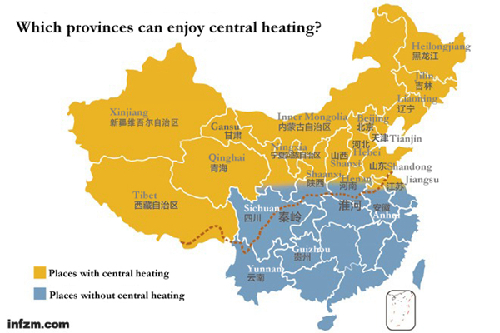 The heating line in red [Photo/ infzm.com]
Edited by Jacob Hooson