The Hualin Temple is located at the south piedmont of Pingshan Mountain in the north of Fuzhou City.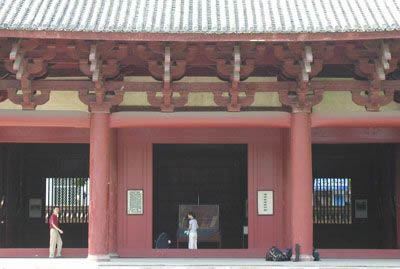 The Hualin Temple was built in the second year (964) of the Qiande reign in the Northern Song dynasty (960-1127). The Northern Song Dynasty had already unified the northern part of the nation while the King of Wuyue was taking Fuzhou as a separatist regime by force of arms. The leader of Fuzhou Prefecture established the temple, which was originally named the Auspicious Buddha Hall. In the Zhengtong reign (1436-1449) during the Ming dynasty, it gained an inscribed plague with the name of the Hualin Temple on it. There were once some buildings other than the present palace, such as the halls, family hall for worshipping Buddha, the Huanfeng Pavilion, and the Juexue Small House, etc, which fell into disuse long ago.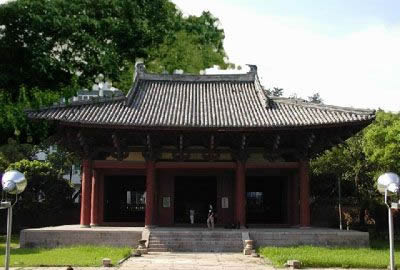 The Great Hall of the Hualin Temple has a single-eave roof with nine ridges. It is three bays in width and four bays in depth with eight purlins and four pillars. It is rectangular in shape with an overall height of 12.8 meters. The dougong (wooden square blocks inserted between the top of a column and a crossbeam) of the outer eave is made of gigantic materials. The application of cloud-shaped humps in the girder and square wood is rare in China.
Although it has been reconstructed many times in the Ming and the Qing Dynasties, the components as the main girder frame and the dougong are original. Since the temple was established in the early Song Dynasty (960-1279), we can not only make out the architecture features of the Northern Song Dynasty (960-1127) from its framework, but also the features of the previous dynasties. The temple is the oldest timberwork construction in the south of the Yangtze River in China, and it is especially valuable in the southern area where the timberwork constructions of the Song Dynasty are rare.
Source: chinaculture.org