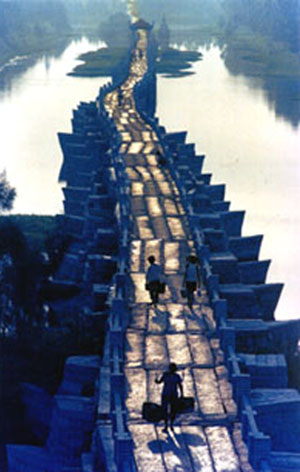 Anping Bridge is located in the west of Anhai Town, Jinjiang County, Fuzhou City, Fujian Province.
Anping Bridge spans the bay between Jinjiang County and Nan'an County. Anhai County is also referred to as Anping County, hence the name of the bridge. Its construction lasted for 13 years, beginning from the 8th year (1138) of the reign of Shaoxing of the Southern Song Dynasty (1127-1279). The now 2,255-meter-long and 3~3.8-meter-wide bridge was then 811 zhang (1zhang=3.3m) long and 1.6 zhang wide. The length was approximately 5 li (1li=500m), so it gained the other name of Five Li Bridge. It was the longest stone-beam bridge in China, even in the world during the Middle Ages.
The bridge was built with stone beams, the largest of which weighs 25 tons. The surviving 331 bridge piers are made of narrow and long stone pieces, and have three forms: the cubic, the semi-boat-shaped and the boat-shaped. The bridge was originally sheltered by Shuixin (literally meaning in the water) Pavilion,Zhong (literally meaning middle) Pavilion, Guan (literally meaning authority) Pavilion and Yu (literally meaning rain) Pavilion, and had been decorated with stone parapets, stone generals, lions and toad poles.
However, the only extant pavilion is the Shuixin Pavilion, together with 13 surrounding stone tablets recording the bridge's building and repairing history. Four symmetrically-distributed stone towers and a round tower stand in water at both sides of the bridge. The white bridgehead at the entrance is 22 meters high and has five storeys. It is hollow with the crossing section shaped in hexagon, and assumes a simple and unsophisticated style.
As the longest bridge in China before 1905, it enjoyed high reputation for its unparalleled span before Zhengzhou Yellow River Bridge was built. Anping Bridge commands a grandiose and spectacular view, and was regarded as a magnificent rainbow figure against the sky.
Source: chinaculture.org