The tomb of Lin Zexu is located at the foot of the Jinshi Mountainin Ma'an Village in the north suburb of Fuzhou City, Fujian Province.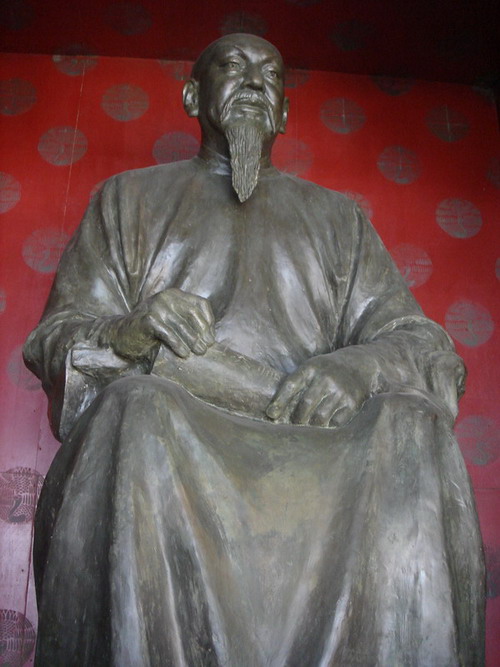 Lin, who was born in 1785 in Houguan (today's Fuzhou City), Fujian Province, was a famous statesman at the end of the Qing dynasty (1644-1911). He served as an official during the Qing dynasty in 13 provinces for more than 40 years. In 1839, Lin, who was governor-general of Hunan-Guangzhou, was appointed to commissioner of Guandong Province when his move to ban opium received high acclaim.
In his new post, Lin was to implement the prohibition on opium smoking and the opium trade. In Humen, the opium ban reached its climax: Lin ordered all of the opium - over 1.2 million kg, which was confiscated from Britain and American opium traders - destroyed. He also constructed a coastal defense system and organized the common people to resist armed provocations by the British army.
However, due to his victimization by powerful capitulators in the Qing government, Lin was removed from office and exiled to Xinjiang. He was reinstated as governor-general of Shaanxi-Gansu in 1846 for his superior governance in Xinjiang. In 1848, Lin was transferred to being the governor-general of Yunnan-Guizhou and in 1849 he resigned to his hometown due to illness.
Although Lin was appointed commissioner once again to superintend military affairs, he died of an illness in 1850 on his way to Chaozhou, Guangdong Province and was buried in his hometown. Lin not only served as an excellent statesman, but he also penned many works, such as Collected Works By Lin Zexu.
Lin's mortar tomb faces south, inclining slightly to the east. It is 13.2 meters wide and 24.8 meters high with a pair of lions sitting at its side. On a horizontal screen it says: Wu Feng Lai Xiang (literally meaning five phoenixes flying and dancing here) in Kaishu (literally mearning regular script). The mausoleum was originally built for Lin's parents at his request in 1824. It consists of his parents' tombs as the focal point, with tombs of Lin, his wife, brother and his brother's wife, as attachments.
Source: chinaculture.org