CAPE TOWN, Oct. 6 (Xinhua) -- A senior WHO official on Tuesday lauded Chinese pharmacologist Tu Youyou for winning the 2015 Nobel Prize for Physiology or Medicine, the first Chinese woman national to win a Nobel prize in science.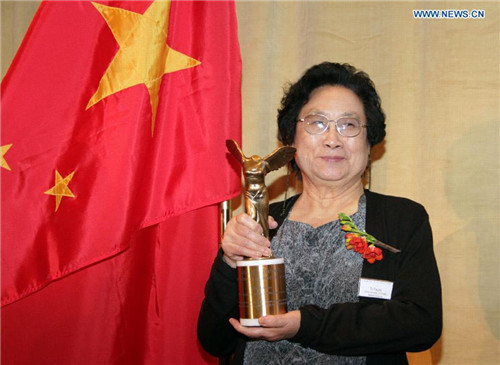 File photo taken on Sept. 23, 2011 shows Chinese pharmacologist Tu Youyou posing with her trophy after winning the Lasker Award, a prestigious U.S. medical prize, in New York, the United States. China's Tu Youyou, Irish-born William Campbell, and Japan's Satoshi Omura jointly won the 2015 Nobel Prize for Physiology or Medicine, the Nobel Assembly at Sweden's Karolinska Institute announced on Monday. Tu won half of the prize for her discoveries concerning a novel therapy against malaria.(Xinhua/Wang Chengyun)
Matshidiso Rebecca Moeti, regional director for WHO's Africa Region, told Xinhua that the drug Artemisinin, which was discovered by Tu, has significantly reduced the mortality rates for patients suffering from malaria.
Moeti describing the discovery as "an exciting achievement" and the prize won by Tu comes naturally from real distinction.
For Chinese scientists, this is a "historic moment," Moeti said on the sidelines of the 2nd Ministerial Forum of China-Africa Health Development taking place in Cape Town.
The discovery of Artemisinin has greatly contributed to the health of the peoples in the world, Moeti said.
The contribution is more evident in Africa where many people, particularly children are killed by malaria, which is one of major killers in the continent, she added.
With Artemisinin, Africa has changed for the better and has been put in a better position to achieve the UN Milllenium Development Goals, Moete said.
She said health workers in Africa all know that Artemisinin come from China and they all appreciate that.
Moete described China as "a great partner" in Africa's development, particularly in the health field since Chinese medical assistance to Africa has sustained long periods.
For many years, China has sent medical teams to many African countries and this has won the appreciation of the African people, she said.