Rise of commercial circles in Wenjiang
( chinadaily.com.cn )
Updated: 2018-11-27
During the past 40 years of reform and opening-up, the tertiary industry in Wenjiang has prospered. Statistics show that the total retail sales of consumer goods in Wenjiang has increased by a large margin over the past four decades, from 35.85 million yuan ($5.2 million) in 1978 to 11 billion yuan in 2017.
Today's clustering and rising of commercial circles, as well as changes in public shopping habits, are representative of the trend of increased consumption over time.
In 2014 Ito Yokado, a Japanese general merchandise store, set up in Wenjiang, filling the gap in the area's high-end retail industry. In November of the same year, the Zhujiang Shopping Center, a high-end shopping mall, began trial operations and associated selling with Ito Yokado.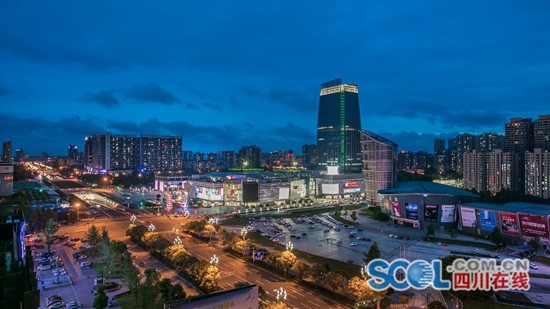 Guanghua business circle in Wenjiang district. [Photo/scol.com.cn]
Hema Fresh, Alibaba's newly founded online-to-offline e-commerce fresh food platform, is gaining momentum in the novel retail business model of Wenjiang.
Hema Fresh store covers an area of about 5,000 square meters, providing more than 6,000 commodities from 108 countries. After its opening at the end of April, total sales during the May Day holiday reached three million yuan, with a passenger flow of nearly 30,000 people. The Hema Fresh app also serves as a major payment platform through self-service checkout counters.
Nowadays Wenjiang has formed a ring of quality commercial circles with vigorous developmental tendencies. The thriving business circles have brought more benefits and convenience, more quality products and better public services to citizens.