Panda Bao Bao to be rehomed in Chengdu
( chinadaily.com.cn )
Updated: 2017-02-14
Panda breeders in Chengdu are preparing for the return of three-year-old Bao Bao, a female giant panda born in the United States, who is scheduled to arrive on Feb 22.
The Dujiangyan base of the China Conservation and Research Center for Giant Pandas, has prepared a 100-square-meter area, complete with a lounge and playground, for Bao Bao to live in while she is in her month-long quarantine.
During the quarantine period, Bao Bao is expected to adapt to the environment, local bamboo and bread, as well as breeders speaking in Sichuan dialect.
Bao Bao was born on Aug 23, 2013 at the Smithsonian's National Zoo in Washington D. C.
According to the zoo, American courier company FedEx will fly Bao Bao, who will be accompanied by her American breeder and veterinarian, on Feb 21. The Washington Smithsonian's National Zoo said that it will hold a farewell party for Bao Bao from Feb 16 to 20, wishing her a happy and healthy life in China.
In 2000, Bao Bao's mother and father Mei Xiang and Tian Tian, were moved to Washington from Chengdu in a friendly agreement between China and the United States. According to the agreement, panda cubs born in the United States to parents on loan from China must be returned to China.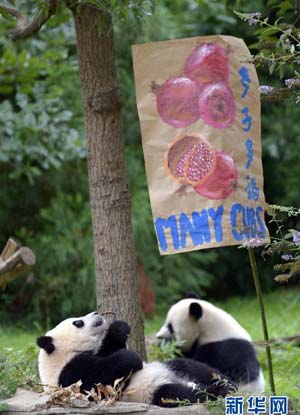 Bao Bao (L) celebrates her first birthday in Washington by taking part in the Chinese tradition of zhuazhou, a game played on a child's first birthday to determine his or her future. [Photo/xinhuanet.com]