Top ancient towns near Chengdu (2) – Yuelai town
( chinadaily.com.cn )
Updated: 2015-08-19
Visiting ancient towns can be a pleasant experience. Here we list four best ancient towns near Chengdu.
Yuelai Ancient Town – just next to Xiling Snow Mountain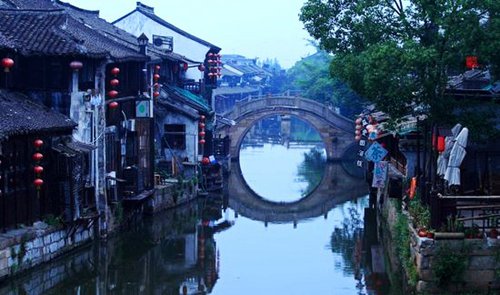 Location: in Dayi county in Chengdu, 70 km from city center
Highlights: integration of Chinese and Western architectural styles, former site of the Chuanwang Palace
Yuelai is a mini ancient town situated over four streets. The ancient buildings of Qing Dynasty are mostly located along the Yuelai Avenue and Riverbank Street while the dwellings integrating Chinese and Western architectural styles are scattered around.
Tourists can find an ancient low wall at the end of the Yuelai Avenue, which is the former site of the Chuangwang Palace, a famous temple combined Confucianism, Buddhism and Taoism.
Yuelai Ancient Town boasts convenient transportation. It is located on the way from Chengdu to the Xiling Snow Mountian, Gaoshan Skiing Resort, Huashui Bay Hot Spring Resort, Heming Mountain and Wuzhong Moutain.