Chengdu on track to become an international hub
( China Daily )
Updated: 2014-10-14
Chengdu, an inland city in southwestern China known for its giant pandas and tasty cuisine, is striving to become a globally appealing city and China's western gateway for opening-up.
The city's ambition is backed by China's national strategy to develop western China and build the Silk Road economic belt.
"The relocation of industrial infrastructure and redirection of investment to inland western regions has provided Chengdu with a historic opportunity to build itself into an international metropolis," said Huang Xinchu, Party chief of Chengdu.
"The city government mapped out a comprehensive development strategy aimed at opening up to the outside world and integrating into the world economy, making the city a top destination in western China for global industries, capital and talent," Huang said.
Recognizing the city's growth potential, semiconductor giant Intel Corp set up a chip package and test factory in the city in 2003. Intel's success in Chengdu has added to the city's charm and helped make it a magnet for international companies.
Chengdu is home to 255 Fortune Global 500 companies, including Intel, Dell, Lenovo, DHL, UPS, FAW-Volkswagen and Volvo.
Half of the world's laptop chips are packaged and tested in the city and two-thirds of the iPads in the world are made in Chengdu.
Global logistics giant DHL established an operations center in Chengdu in 2012 and moved its business focus within China to the western regions.
"Our company places high value on Chengdu as an emerging market and investment focus in China," said Zou Yin, general manager of DHL supply chain in China.
"DHL has added investment in Chengdu and southwestern China as the market continues to grow and more clients establish relationships with us," he said.
Wu Dongming, executive vice-president of DHL Express Asia Pacific, said the group planned to establish its global shared service center in the city.
In February, DHL signed an agreement with the Chengdu International Express Center to expand its business in the city. Plans include enlarging the company operations space to 2,000 square meters, which will be able to handle 8,000 tons of express cargo annually.
Logistics system
To boost communication with the outside world and draw more foreign investment Chengdu has put great importance on developing its logistics system.
"Transportation comes first. That's our strategy," Party chief Huang said. "We want to transform Chengdu from a domestic transportation hub into an international hub."
United Airlines started a direct Chengdu-San Francisco route on June 11, which marked the first direct link from western China to the United States.
British Airways increased the number of flights to Chengdu from three to five a week on May 6, less than eight months after it opened the direct route, which was also the first direct flight connecting western China to the United Kingdom.
Chengdu Shuangliu International Airport is the fourth busiest airport on the Chinese mainland. It operates 157 domestic and 74 international routes that connect the city to 108 domestic and 65 overseas destinations.
International routes to Moscow, Paris, Dubai and African cities are also planned, according to Chen Zhongwei, director of Chengdu Logistics Office.
The city expanded its overland connections with Europe with an express freight train that travels 9,826 kilometers to Lodz, in Poland.
The Chengdu-Europe express train, which opened in April 2013, runs along parts of the legendary Silk Road, where caravans shipped silk, jewelry and spices for sale between China and European countries 2,000 years ago.
The weekly train carries electronic products such as laptops produced by PC giant Dell or iPads by Apple, as well as auto parts, home appliances and other daily necessities.
"It is the fastest and most frequently used direct freight train from China to Europe," Chen said.
It takes 14 days for the train cargo to get from Chengdu to Lodz. Then within three days, the shipments are delivered to customers in London, Paris, Berlin and Rome through the widespread European railway and road network.
"The express train is a month faster than ocean shipping and costs only a quarter of air cargo transportation," Chen said. He added that the running time could be shortened from 14 days to 12 days in the near future.
"It broke the tradition of an export-oriented economy relying on sea ports, turning Chengdu's inland geographical disadvantage into an advantage for exporting to Europe," he said.
The express train is expected to operate a return route service by the end of the year, to bring European products into China.
Chengdu has been honored with several visits from foreign leaders and dignitaries in recent years.
German Chancellor Angela Merkel chose Chengdu as the first stop of her visit to China in July. She brought a big trade and economic delegation and learned how to cook kung pao chicken, a famous Sichuan dish, at a local restaurant.
Contact the writers at liyu@chinadaily.com.cn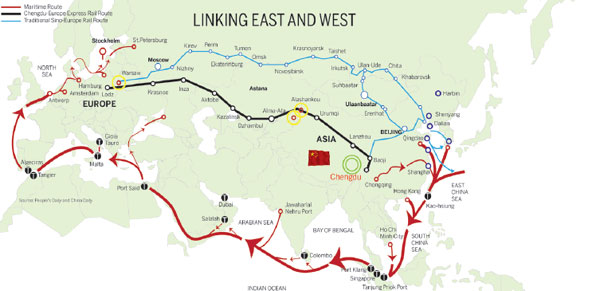 A comparison between the Chengdu-Europe express rail route, the maritime route and the traditional Sino-European rail route shows that the new rail link is the most efficient.  Liu Lunan / China Daily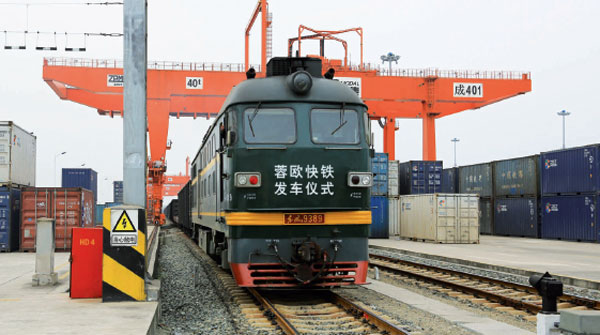 The Chengdu-Europe express train, which opened in April 2013, is the fastest freight rail link between China and Europe.  Provided to China Daily