Leyard Group, a visual media products manufacturer in Zhongguancun Science Park in Beijing's Haidian district, announced its business updates and unveiled its intelligent display products and televisions as well as commercial-grade LED displays on Nov 4.
It was the debut in the consumer goods industry for the world's biggest LED video display producer and signaled that it has tapped into the consumption market.
Li Jun, chairman of Leyard Group, began his speech by describing 2019 as "an extraordinary year" for the audio-visual technology industry.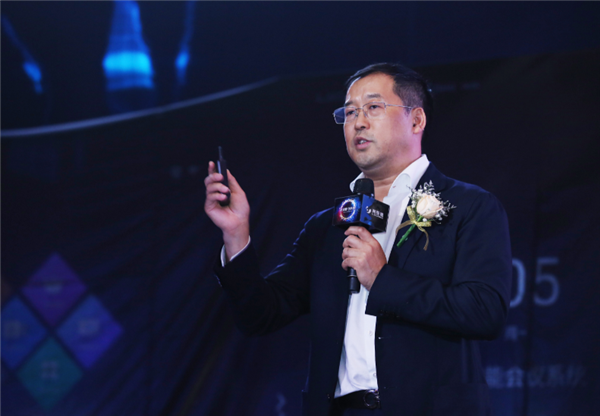 Li Jun, chairman of Leyard Group addresses the launch ceremony of the enterprise's latest products in Beijing on Nov 4.
As a leader in the industry, Leyard is devoted to scientific and technological innovation and leads the industry with pioneering technologies, he said.
It has been making technological breakthroughs and creating new records, Li noted, adding that Leyard's entry into the LED display consumer goods industry will bring revolutionary changes to the market.
Leyard supplied 80 percent of the acousto-photoelectric products for the opening and closing ceremony of Beijing's Olympic Games in 2008. It also provided display products for the celebration of the 70th anniversary of the founding of the People's Republic of China.
In addition, the company played a key role in the opening and closing ceremony of the 7th Military World Games in Wuhan, Central China's Hubei province last month.
LANAR, a brand of Leyard, showcased its new smart TV products in two sizes -- a 135-inch model and one of 120-inches with 8K UHD resolution. They use the next generation of ultimate display technology Micro LED, which is an upgraded version of LCD and OLED technologies.
The Micro LED is slim and boasts excellent performances in brightness, color gamut, reaction speed and service life. Its screen proportion can up to 99.99 percent.
The 135-inch TV set is comprised of 25 modules with 284 x 216 pixels, which enables the modules to be transported separately and then assembled into a screen at the users' home.
Jin Yongnan, general manager of the intelligent display business of Leyard Group, said the size of 120 inches matches the 8K resolution perfectly when he introduced the intelligent UHD TV set at the meeting.
LEMASS, a new brand of Leyard's home TV, brought is first product, the 100A90S, an AI-based 100-inch intelligent TV to the event that day. It boasts 4K UHD resolution, a 120Hz refresh rate and other configuration advantages.
In addition to intelligent TV sets, Leyard also launched its other latest products including LED displays and infrared LCDs at the ceremony.