The "High-Quality Development Forum for Venture Capital Incubation", sponsored by Zhongguancun Zhilian Software Service Industry Quality Innovation Alliance and Zhongguancun IOT Industry Alliance, was held at the Academy of Mathematics and Systems Science of the Chinese Academy of Sciences (CAS) on April 20.
Multitudinous venture capital institutions, incubators, industry alliances, associations, colleges and universities, as well as other elite resources, will exchange ideas and speak freely on the theme of "Remould Entrepreneurial Ecology and Boost Innovation Engine" and "How to leverage venture capital incubator resources to benefit innovation and entrepreneurship".
The "6789 Collaborative Entrepreneurship" emerged as the new key concept of venture capital incubators unanimously recognized by the delegates at the meeting.
The concept advocates the innovation and entrepreneurship resources of the post-1960s, post-1970s and post-1980s to unite with new forces of joint venture capital and support post-1990s entrepreneurs through this new mechanism.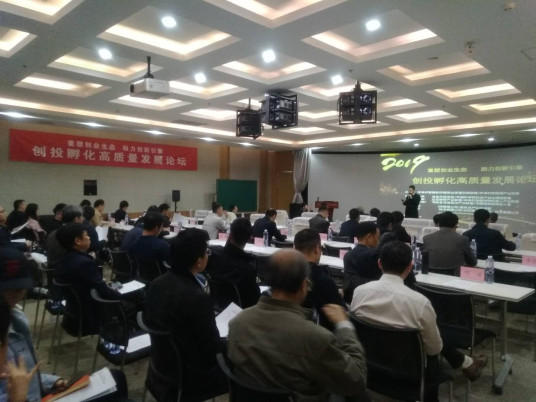 The establishment of the "New Force Capital Alliance" and "Excellent Catcher Alliance", based on the core concept of "6789 Collaborative Entrepreneurship", is launched at the forum. [Photo provided to chinadaily.com.cn]
China's economy shifted from a high-speed growth stage to a high-quality development stage in 2019. A number of innovative entrepreneurs, investors, and platform service providers were also pushed by the tide of modern economic systems to "transform development methods, optimize economic structure and foster new drivers of growth".
How can the Zhongguancun entrepreneurship forces meet the new economic challenges during the national strategic reform? How do investment and entrepreneurial service groups cash out idle resources? How can the new generation of entrepreneurs take advantage of high-quality resources?
These issues have become hot topics for participants at the forum. Many ideas gathered together to create new thoughts, pool new resources and stimulate new growth drivers, which can in turn improve the success rate of projects and substantially increase the rate of return for investments.
In 2018, post-1980s and post-1990s entrepreneurs accounted for over half of the legal persons in Zhongguancun, and more and more younger entrepreneurs are entering the market.
Since 2014, post-1990s entrepreneurs have gradually became the mainstay of Zhongguancun start-ups. Like post-1960s and 1970s entrepreneurs, post-1980s entrepreneurs are more apt to provide resources or guide businesses.
These four generations of entrepreneurs have become the main forces of Zhongguancun in terms of operating businesses and collecting superior resources.
At the forum, Li Huaizhang, founder of the New Forces Capital Alliance & Excellent Catcher League; Liu Qiujiang, co-founder of Zhiyouwo Industry Accelerator; Zhang Ping, chairman of the Science and Technology Industrialization Network Alliance of the CAS; Wang Dongming, an academician of the European Academy of Sciences, and other representatives from associations and companies elaborated on their views centering on five key words: "investment, incubation, industrialization, innovation platform and innovative thinking mode".
Participants from Zhongguancun Entrepreneurship Ecological Development Promotion Association, CAS Technology Industrialization Network Alliance, Zhongguancun Industrial Internet Industry Alliance, Zhongguancun Rongzhi Special Robot Industry Alliance and other institutions and enterprises sparked a heated discussion.
Participants agreed to establish the "New Force Capital Alliance" and "Excellent Catcher Alliance" with the core concept of "6789 Collaborative Entrepreneurship".
The league will be set up as a platform to connect entrepreneurs from the four generations and explore the outstanding projects of young entrepreneurs.
Through such bonds, sources, investment, experience and reputation can be shared among members, who will support and assist each other to form a cohesive team.
The organizers of the forum appealed to the various advantageous resources inside and outside Zhongguancun to promote the combination of resources from the 1960s, 1970s and 1980s with high-quality entrepreneurial projects from the 1990s to achieve win-win results!
After the forum, the main initiators of the "New Force Capital Alliance" & "Excellent Catcher League", Beijing Jingxionghui Technology and Beijing Zhunmai Information Technology Co, will take the lead in docking entrepreneurs, investors and platform service providers from Silicon Valley, Zhongguancun, Xiong'an and other places to enrich the two alliances.