First stop: Zhongguancun Exhibition Center
The 16,000 square meter exhibition center of Zhongguancun National Independent Innovation Demonstration Zone is located to the west of Peking University and to the north of Haidian Park.
Established in July 2011, the center has welcomed over 300,000 visitors over eight years. It not only exhibits 170 companies and over 340 items, but also displays more than 1,400 technologies, including some cutting-edge ones that have not yet entered the market.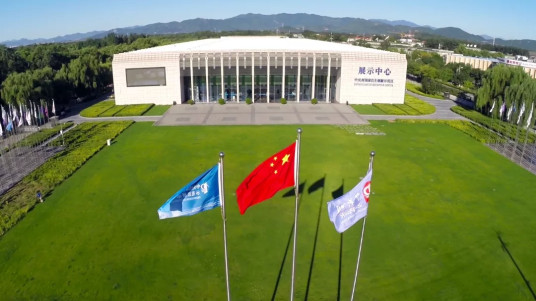 A glimpse of Zhongguancun Exhibition Center [Photo provided to chinadaily.com.cn]
Since 2013 the center has brought to the public exhibitions on 3D printing, integrated circuit equipment, new generation information technology, energy saving and environmental protection, new materials, biology and medical health, aerospace and other advances.
Artificial intelligence is everywhere in the center and is reflected in a variety of products. Achievements in the fields of intelligent transportation and bio-health show that technology is bringing more down-to-earth benefits to the general public.
Exhibitions mounted last year included innovation and entrepreneurial ecology, intelligent transportation and equipment, integration of culture and technologies, military-civilian integration and other new hotspots of technological development, as well as a group of the latest "black technology" products born in Zhongguancun such as driverless vehicle remote inspection and face recognition technologies.
It is worth noting that the Zhongguancun Exhibition Center has been the Beijing venue of National Mass Innovation and Entrepreneurship Week successfully four times.
Second stop: Zhongguancun Frontier Technology Innovation Center
The Zhongguancun Frontier Technology Innovation Center is not far from Zhongguancun Innoway and Zhongguancun SOHO. In the exhibition hall on its third floor, 3D printed heart brackets, liquid metal printed circuit boards, intelligent domestic appliances and other high-tech products enable us to peep at the future.
In recent years, the Zhongguancun Administrative Committee has carried out a pioneering reform and exploration of the selection and cultivation mechanism through public roadshows of artificial intelligence, intelligent manufacturing, new game-changing materials, and other frontier fields.
During the past two years, 51 cutting-edge technology companies have been selected. Most of these companies are about three years old and have a total value of 150 billion yuan. As of July 2018, ten of these fifty one enterprises had become unicorn companies.
To better serve frontier technology enterprises, the Zhongguancun Administrative Committee made early preparations to build the Zhongguancun Frontier Technology Innovation Center. Dadi Technology Mansion, a building in the heartland of Zhongguancun Science Park, was selected as the site of the first innovation center. The center is jointly managed by Zhongguancun and Haidian district.
Third stop: Zhongguancun West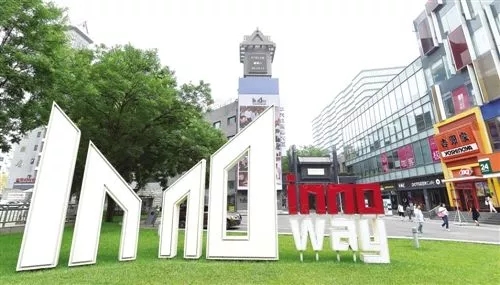 Innoway offers sufficient space for entrepreneurs to start their dreams. [Photo provided to chinadaily.com.cn]
The 220-meter-long Innoway starts with a red-and-white sculpture -- "Inno way". Named "The Pilgrimage of Entrepreneurs" on the Internet, Zhongguancun Innoway has attracted many creative pilgrims. All along the street Garage Coffee, 3W Coffee, Lenovo Star, Kr Space, and other outstanding domestic and international entrepreneurial service agencies, as well as entrepreneurial dark horses, greet visitors. On the blackboard newspaper of one marker space, a line of glittering words stands out -- "Let all dreams have a home to start."
By 2018, Innoway had cultivated 2,459 entrepreneurial teams, with a 36.8 percent success rate of financing. The total financing amount of them reached 14.18 billion yuan, and over fifty entrepreneurial teams raised over 100 million RMB. Nie Lixia, the general manager of Zhongguancun Innoway, remarked that Innoway will become an "innovation and entrepreneurial living community integrating entrepreneurship, community, culture and leisure" in the future.
In addition to Innoway, Zhongguancun West also possesses two other streets: Science and Finance Street and Intellectual Property Street. According to statistics, seventy five buildings, including shopping malls, schools, hospitals and other facilities have been set up to support them.
Fourth stop: Zhongguancun Software Park
In China, it is hard to imagine that so many top technology companies can be concentrated in one park. Zhongguancun Software Park has welcomed the establishment of Lenovo Global Headquarters, Baidu, NetEase Beijing R&D Center, Tencent Beijing Headquarters, Sina, IBM China R&D Center, Oracle China R&D Center, AsiaInfo Technology, Didi Headquarters and others. Almost half of the development history of China's Internet industry was written here.
The park was established in 2000 and soon developed into the national "double base"--- Beijing's only national software industry base and national software export base.
As of 2018, there were sixty six enterprises with revenue of over 100 million RMB in the Zhongguancun Software Park and fifteen of the park's tenants ranked among the top 100 Chinese software companies. Seven multinational companies had moved their R&D headquarters here, thirty three foreign-invested companies had settled in the park, and 3,727 foreign employees worked and lived here.
The software park has built a multi-level international platform across an international network covering the United States, Canada, and the United Kingdom, and has a further focus on Finland, Israel and other innovative frontier countries.
Fifth stop: Home Innocommunity
Huilongguan and Tiantongyuan have been called "sleeping towns", as many entrepreneurs choose live there but have to work in the inner city. However, since the Zhongguancun Administrative Committee established the first innocommunity, these young people can devote themselves to innovation and entrepreneurship at their doorstep.
"Home Innocommunity" has two parts: the Huilongguan and Tiantongyuan Innocommunities. Currently, there are nearly twenty innovation and entrepreneurship carriers in these communities, with an operating area of 400,000 square meters. More than 1,100 companies have settled in them, and 20,000 people work in them.
Sixth stop: Zhongguancun Daxing Biomedical Industry Base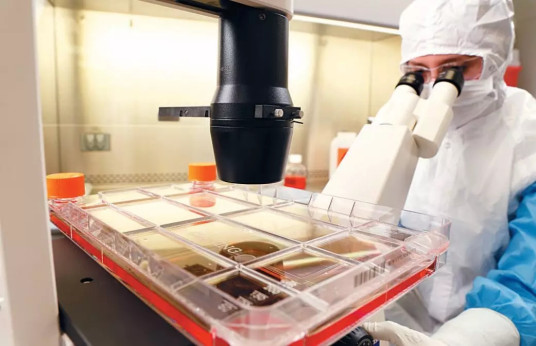 The pharmaceutical industry prospers in Daxing Biomedical Industry Base. [Photo provided to chinadaily.com.cn]
Although located to the south of sixth ring road, Zhongguancun Daxing Biomedical Industry Base goes by the name "China Medicine Valley". It is not only home to the National Institutes for Food and Drug Control and the Institute of Materia Medica, Chinese Academy of Medical Sciences, which are indispensable for pharmaceutical research and development, but also attracts leading domestic pharmaceutical companies.
Daxing Biomedical Industry Base was established in 2002. Four years later, it was also incorporated into the Zhongguancun Science Park, and then upgraded from a municipal development zone to a national high-tech industrial park. A total of 10 billion RMB has been invested in developing the industry base and finishing urban energy planning, land acquisition, demolition and infrastructure.
Since 2010, the park officially began to attract investment. With the improvement of infrastructure and the arrival of medical institutes, more well-known enterprises and high-tech institutions began to settle here.
Presently, the park has formed its unique "1+4+2" industry foundation: a core section of drug administration approval and pharmaceutical research and development, the main sectors of biopharmaceuticals, modern Chinese medicine, innovative medicines and medical devices, and the expanded plate of health care products, cosmetics and veterinary medicine vaccines.
Seventh stop: Zhongguancun Hangxing Science Park
Hangxing Science Park is located in Hepingli East Street, Dongcheng district in an area of about 135,000 square meters. Famous cultural attractions such as Ditan Park, Lama Temple, Confucius Temple and Guozijian surround the park.
Under the policy of "Dual-driven by technology and culture", Hangxing Park has attracted enterprises in the fields of film and television, games, media, big data, artificial intelligence, culture and finance; Beijing Enlight Media and other renowned media companies have already entered. Up to last year, more than 300 companies had come to Hangxing Park to create an annual output value of about 40 billion RMB.
Eighth stop: Zhongguancun Virtual Reality Industrial Park
The "Virtual Reality Industrial Park" is composed of eight office buildings, another unique feature of Zhongguancun Shijingshan Park. With a flight simulator made up of a projector, a virtual mirror and a flight control seat, visitors can experience the feeling of piloting an aircraft.
The Ministry of Industry and Information Technology issued a white paper on the virtual reality industry in 2016, specifying its presence in China's and releasing corresponding policies. In the following year, VR entrepreneurs were mushrooming in the domestic market.
In April 2017, a summit themed on the global virtual reality industry was held in Shijingshan Park, and Zhongguancun Virtual Reality Industrial Park was officially unveiled. Such public technology service platforms as the "Key Laboratory of Immersive Interactive Animation and Culture Department" and the "Digital Entertainment Experience Platform for VR Multi-Terminals" have attracted over sixty VR companies.
Shijingshan Park focuses on the cutting-edge industries represented by virtual reality, artificial intelligence, digital creativity and other new-generation information technologies. It is stepping up efforts to build an industrial structure featuring technology, culture and financial integration.