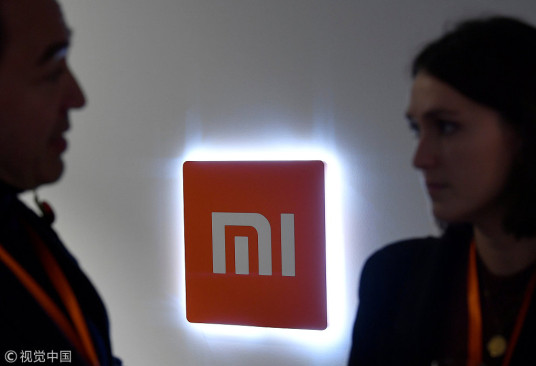 Xiaomi branding is seen at a UK launch event in London, Britain, Nov 8, 2018. [Photo/VCG]
Xiaomi Corp bought 65.2 million shares, or 0.48 percent, of consumer electronics giant TCL Corp from the secondary market as of Jan 4, Guangdong-based TCL said in a statement to the Shenzhen Stock Exchange on Sunday.
The move will help deepen the cooperation and establish a closer strategic partnership between the two companies, according to TCL. On Dec 29, the partners signed strategic cooperation agreements to jointly develop smart products and electronic devices, and apply the new device and technology in next-generation intelligent hardware, as well as establish cooperation and joint investment in the core, high-end and fundamental technology field.
The home appliance business became a new growth point for Xiaomi in 2018. It has not only strengthened its smart TV business, but also stepped into the air conditioner and washing machine sector.
As a traditional home appliance giant, TCL has announced strategic adjustment and will shift its focus to semiconductor display, material and other emerging businesses. The two sides are complementary to each other, as Xiaomi has the capacity for research and development and design capabilities, while TCL has rich experience in supply chain and production.
Industry analysts said Xiaomi TV in 2018 became the No. 1 smart TV brand in China, and its global sales are expected to grow by more than 350 percent year-on-year. In the third quarter of last year, Xiaomi TV surpassed Samsung to become the No. 1 smart TV brand in India, according to market research firm IDC. This strategic cooperation with TCL will strengthen Xiaomi's capacity in the field of home appliances.