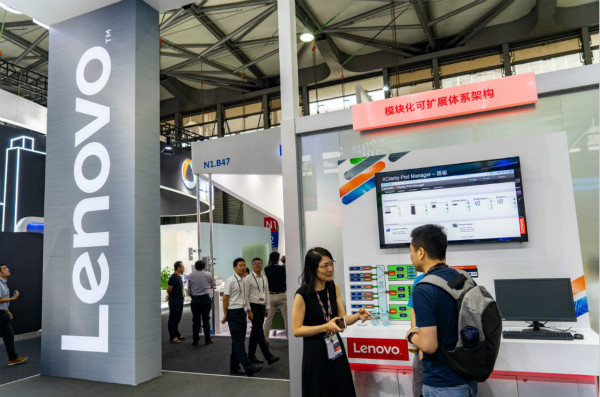 The booth of Lenovo at the Mobile World Congress Shanghai on June 29. [Photo provided to China Daily]
Lenovo Group Ltd, China's largest personal computer maker, will step up its push to tap into the internet of things market, focusing on demand from corporate clients, its chairman Yang Yuanqing said.
Yang said after decades of development, Lenovo is no longer just a company that targets individual consumers.
"Our years of technological accumulation, and large pools of clients as well as distribution channels put us in a good position to expand our presence in the enterprise client market," he said.
His comments came after Lenovo achieved good performance in data center business, with its revenue growing 68 percent year-on-year in the second quarter of 2018.
Such strong data is part of the Beijing-based company's broader resumed growth after it worked hard to put itself on the expansion track. In the second quarter, Lenovo posted a profit of $77 million, beating estimates and indicating a big turnaround from a loss of $72.3 million in the same period a year earlier
"On top of PCs and mobile phones, Lenovo will offer more internet-connected devices to help different industries accelerate digital transformations and facilitate businesses to upgrade their plants," Yang said.
According to him, while most tech heavyweights such as its rivals HP Inc and Dell Inc have outsourced manufacturing to other companies, Lenovo is one of the few that still master both technologies and manufacturing know-how.
"Such an advantage will help us know better about what technologies are really needed in factories and how to apply them," Yang added.
Currently, Lenovo has a 170,000 square-meter smart factory in Hefei, capital of Anhui province, whose annual production capacity has reached 30 million personal computers. It also has mega-sized plants in locations including Wuhan, capital of Hubei province.
By leveraging machine recognition to its own assembly lines, Lenovo has lowered the defective product rate by 27.6 percent. With the help of AI in supply chain management, the accuracy of the company's prediction of product storage is 7 percent higher than that of human experts, said Rui Yong, chief technology officer of Lenovo.
masi@chinadaily.com.cn