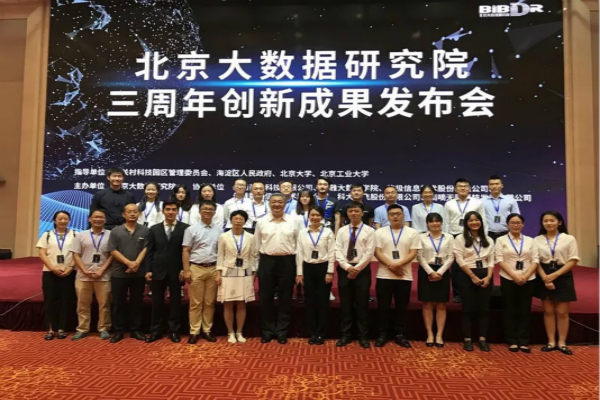 Government officials, college professors and enterprises representatives at the BIBDR innovation conference in Beijing's Zhongguancun Science Park on Aug 27 [Photo provided to chinadaily.com.cn]
The Beijing Institute of Big Data Research (BIBDR) showed the world its three years of achievements in Zhongguancun Science Park, Haidian district, Beijing, on Aug 27.
At the conference, BIBDR released its macro economy analysis model (empowered by big data), the molecular dynamics simulation platform (with deep potential and reinforced dynamics) and the new generation fingerprint identification technology.
Intelligent service builder Watertek, leading AI firm iFlytek and Advanced Digital Technology Co also presented their technology breakthroughs and business expansion since 2015.
Three years ago, BIBDR was jointly established by the Zhongguancun administrative committee, the Haidian government, Peking University and Beijing University of Technology to explore the big data domain and reform the big data industry, so as to powerhouse collaborative development in the the Beijing-Tianjin-Hebei region.
Thanks to its ceaseless efforts in management innovation and mechanism reform, the institute has gathered a large number of big data talents from home and abroad, incubated a good many innovative enterprises and forged a "Beijing mode" for technology transfer, rapid industrialization and talent cultivation.
For example, Boya Big Data College, under BIBDR, has provided training services for more than 120 universities and up to 25,000 big data professionals.
"What we have been building is a pilot zone for system reform, a pioneering team for core technologies and an incubation center of in-depth innovation," said the director of BIBDR when addressing the conference.
Also sharing their insights during the conference were over 400 distinguished guests, including Li Changping, deputy head of the Haidian government, Gao Song, vice-president of Peking University, and Liu Hang, deputy inspector of the Zhongguancun administrative committee.
"I hope BIBDR can embark on more technical challenges and blaze a creative but practical path for the development of China's big data industry," noted Liu.