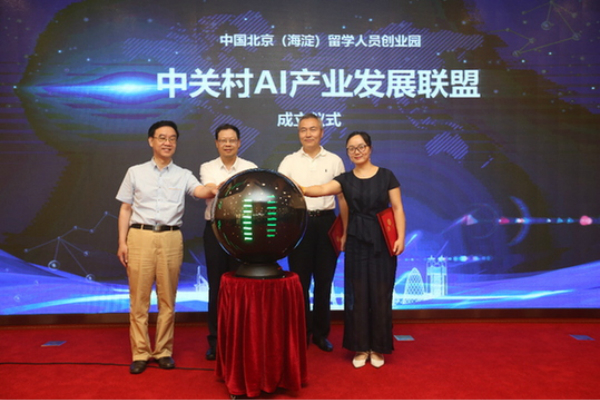 Launching ceremony of the Zhongguancun AI (Artificial Intelligence) Industry Development Alliance in Beijing's Z-Park on July 26 [Photo/xinhuanet]
Beijing's Zhongguancun Science Park (Z-Park), known as China's Silicon Valley, has taken another big step in advancing the country's artificial intelligence (AI) industry, with the founding of a new industry development alliance.
The Zhongguancun AI Industry Development Alliance was established at the AI Industry Development Conference in Z-Park, Beijing, on July 26.
The conference invited numerous renowned experts, company representatives and government officials from AI-related sectors to exchange their ideas on trends and opportunities in the thriving industry.
Among those addressing the conference was Zhao Xinliang, head of the Beijing (Haidian) Overseas Students Pioneering Park (OSPP).
Zhao noted that as a pilot organization of innovative business services, OSPP will continue to build up an embracing environment for innovation-oriented startups, especially those engaged in the AI industry.
Thanks to the guidance of OSPP, the Zhongguancun AI Industry Development Alliance has already enrolled 20 original members. It is expected that the number will reach 100 by the end of 2018.
During the conference, many eye-catching applications were unveiled by attending startups, including AI service provider OFA Technology Co.
Lisa Song, founder and CEO of OFA Technology, presented their virtual assistants and smart robots to the conference's attendees.
According to Song, OFA has also developed a complete set of customized products for the management of information resources.
Other topics covered at the conference included energy governance, space measurement, environment monitoring, risk management and other domains where AI will play an increasingly important role.