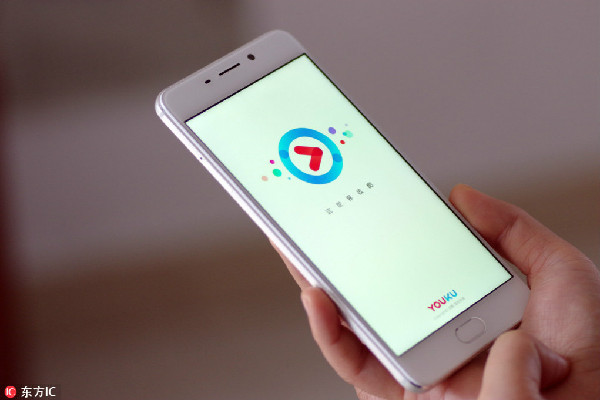 A local Chinese resident uses the mobile app of online video site Youku.com, a subsidiary of Chinese e-commerce giant Alibaba Group, on his smartphone in Ji'nan city, east China's Shandong province, Jan 9, 2018. [Photo/IC]
With soccer fans eager to catch their favorite World Cup matches at home, the country's leading internet companies are preparing to use the global sporting extravaganza at a battlefield to integrate their different lines of business to win customers.
This year, Chinese audiences will not only be immersed in livestreaming and on-demand video of the matches and related programs from digital channels, but also enjoy a wide range of services linked to the game, such as ordering easy-to-eat food online.
Leading online video service Youku is looking to deliver a viewing experience that is about more than just sitting and watching a match, Yang Weidong, president of Youku, said at a Sunday news conference in Beijing.
Youku, a subsidiary of Alibaba Group, will stream all 64 games of the tournament in partnership with China Central Television, and unveil a suite of promotions to boost fan engagement, including talk shows, in-show merchandise sales and prize giveaways.
"We are not only streaming soccer games... but leveraging this sporting event to showcase how Youku can ... capture opportunities in the China sports market by building relevant content and excitement," he said.
Ma Shicong, an analyst at Beijing-based internet consultancy Analysys, said, "The video streaming sector has seen fierce competition in China, so key participants will rush to grab the opportunity to boost their market share."
Youku will host a show called Play Football with Peppa Pig, a soccer-education program for children, and distribute original World Cup-themed content in the form of short videos, music and graphics via Alibaba portals including UC Web, Xiami Music and ticketing service Damai.
Hema, Alibaba's fresh food supermarket, will provide round-the-clock delivery of prepared seafood to people's doorsteps as they enjoy the games in the middle of the night.
"Using the World Cup as the entry point to integrate its whole ecological resources, the company is able to meet users' needs for multiple scenario experiences from online to offline, such as content, e-commerce and entertainment consumption," Ma said.
Youku is not the only video platform to stream the game. Migu Co Ltd, a subsidiary of China Mobile Communications Corp, is also a partner of CCTV in broadcasting the World Cup on digital media and telecommunication channels.
Migu on Tuesday announced a partnership with Twitter-like Sina Weibo involving cooperation in the distribution and promotion of World Cup-related short videos, programs produced by Migu and interactive features.
Contact the writers at ouyangshijia@chinadaily.com.cn