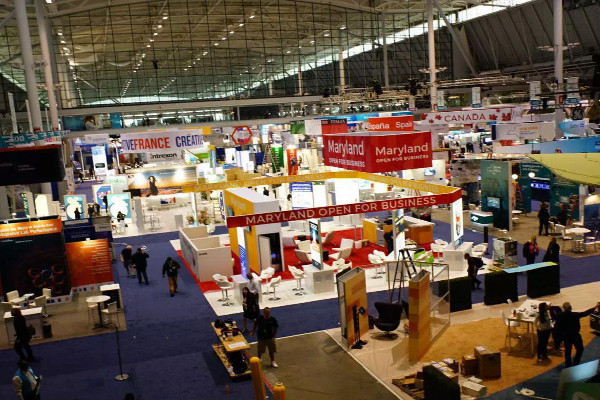 The 2018 Biotechnology Innovation Organization (BIO) International Convention at the Boston Convention & Exhibition Center, on June 7 [Photo provided to chinadaily.com.cn]
Fourteen biotechnology enterprises headquartered in Beijing's Zhongguancun Science Park showcased their incredible progress at the 2018 BIO International Convention, which lasted from June 4 to 7.
Hosted annually by the Biotechnology Innovation Organization, the history-making event is an industry epicenter for more than 1,800 exhibitors and up to 18,000 attendees from all over the world. This year's event had the most attendees in the last 10 years, from 74 countries and regions.
The Beijing delegation, organized for the sixth consecutive year by the Zhongguancun administrative committee, laid out their booths in three elaborately designed functional zones for product displays, education sessions and partnering meetings.
Among the Chinese exhibitors were Sino Biological Inc, AbMax Biotechnology Co and Beijing Fugangren Technology Co, etc.
Sino Biological Inc, for instance, is China's leading biologics manufacturer located in Beijing Economic-Technological Development Area, offering turn-key solutions for premium quality reagents, all of which are produced in house. It is committed to the research of pharmaceuticals such as monoclonal antibodies, recombinant proteins, virus vaccines and rapid diagnosis.
During the convention, Zhongguancun enterprises also participated in a wide spectrum of networking opportunities, including the China Summit, the China Reception and one-on-one partnering meet-ups with overseas bio-tech companies, academic institutions and related organizations.
With six years of perseverance, by shedding light on the broader trends and motivations of biotechnology industry, Zhongguancun enterprises aim to fulfill their vision of bettering the world through ceaseless innovation and global cooperation.
Attendees walk through the display area during BIO 2018 at the Boston Convention & Exhibition Center, on June 7. [Photo provided to chinadaily.com.cn]