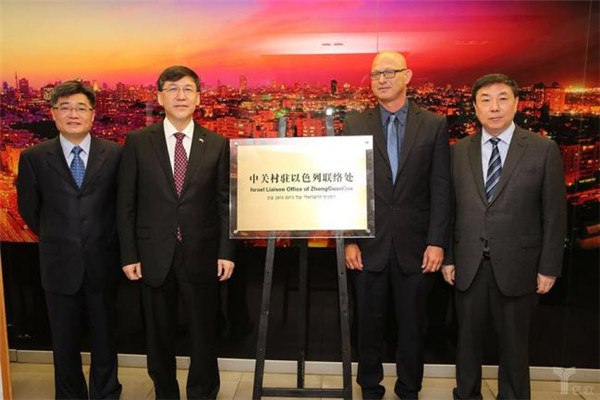 Representatives at the unveiling ceremony of the Israel Liaison Office of Zhongguancun in the city hall of Tel Aviv. [Photo provided to chinadaily.com.cn]
The Israel Liaison Office of Zhongguancun, China's Silicon Valley, opened in the city hall of Tel Aviv, a western port city of Israel, on April 8 local time.
It's another significant move in Zhongguancun's global strategy of upgrading its established overseas liaison network.
Many honored guests, including Yin Hejun, deputy mayor of Beijing, capital of China, and Doron Sapir, chief deputy mayor of Tel Aviv, attended the unveiling ceremony.
A city for entrepreneurs, Tel Aviv is the national center of economy, business and finance. It enjoys an intense clustering of startups with nearly half of its 1,500 high-tech enterprises being fast-growing newborns.
By joining hands with universities, institutes, the media, associations and experts, the office will be a lookout post that absorbs referential experience from Israel and presents the innovative elements of Beijing.
The liaison office will be a bridgehead for bilateral exchanges in high-end talent and trending technologies. In addition to bringing in international resources, it will also help domestic talent fit in the global market.
The Zhongguancun administrative committee has spread its liaison networks to Silicon Valley, Toronto, London and elsewhere. These overseas offices will bulk out the influence of Zhongguancun, and convene more innovative forces for its advancement.