A yellow autonomous robotic car with six wheels appeared on the Zhongguancun Intelligent Manufacturing Way (I-M-Way) on April 2. It can move straight, turn around and automatically stop to avoid pedestrians.
The robot, named Small Yellow Horse, was developed by a Zhongguancun startup — Zhen Robotics. It can run 60-80 kilometers after charging for two to four hours.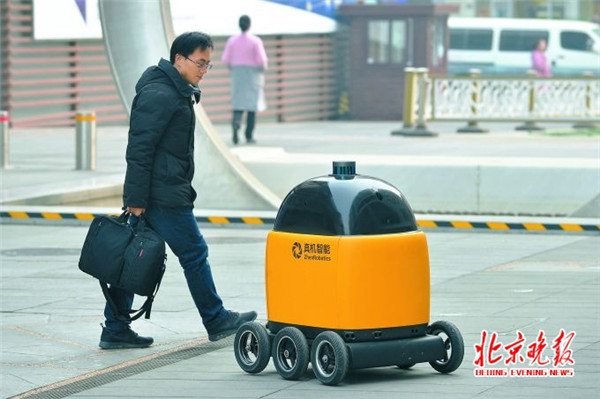 The delivery robot avoids a pedestrian on the Zhongguancun I-M-Way on April 2. [Photo by Wang Haixin/beijingeveningnews.com.cn]
The one-meter tall robot has a load capacity of 30 kilograms, a maximum speed of 12 kilometers per hour, and a lifespan of up to eight hours. It can climb a slope of up to 35 degrees.
Users are able to set the delivery time and place on their mobile phone. Workers then load the parcel into the robot, which will automatically deliver it according to the user's specifications.
In order to ensure the security of the parcel, users can only retrieve it when they scan a QR code with their phone.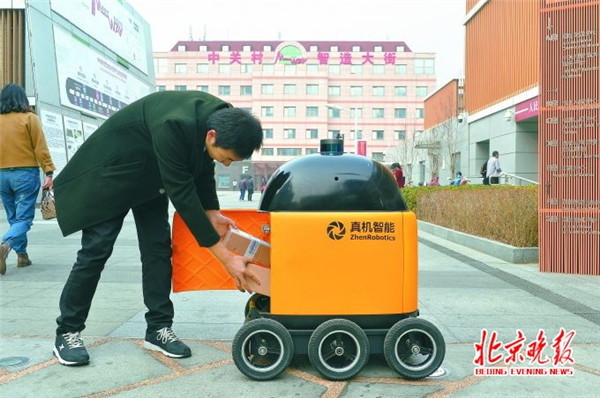 An engineer at Zhen Robotics loads a parcel into the robot. [Photo by Wang Haixin/beijingeveningnews.com.cn]
Liu Zhiyong, founder of the company, said that the robot is designed to cut labor costs by eliminating the need for deliverymen.
Liu estimated that when mass production of the robot begins, the delivery cost of a single parcel will be no more than one yuan.
In 2016, Liu Zhiyong led an artificial intelligence team to start his own business. He adopted the expensive laser radar to replace a visual navigation system, enabling the robot to avoid road barriers automatically.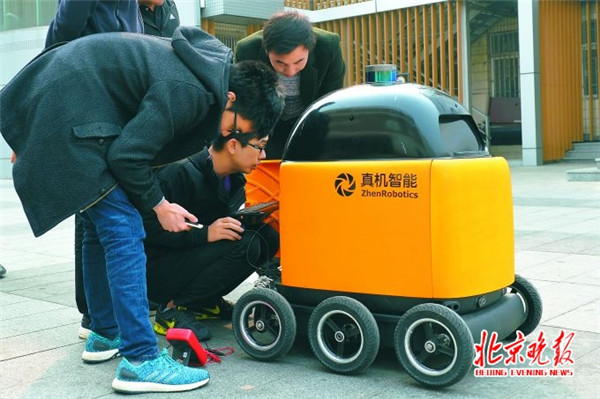 Engineers test the robot on the road in order to collect more data. [Photo by Wang Haixin/beijingeveningnews.com.cn]
Less than two years later, the company has upgraded the robot to the third generation and has already completed 7,000 kilometers of test drives at Tsinghua University, Zhongguancun I-M-Way, and several high-end residential areas.
The robot is also able to use elevators to go upstairs and downstairs.
Liu Zhiyong, founder of the company, demonstrates how to use the robot on his mobile phone. [Photo by Wang Haixin/beijingeveningnews.com.cn]