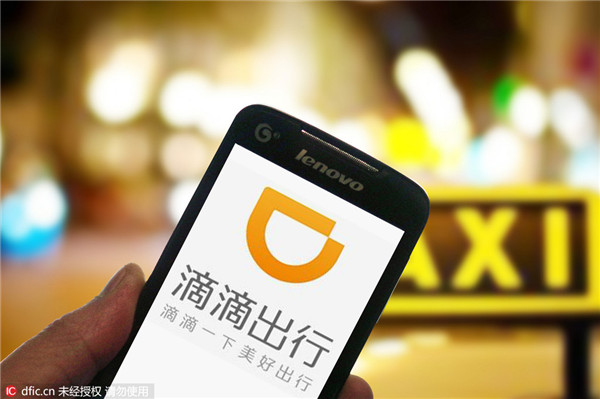 A mobile phone user uses the taxi-hailing and car-service app Didi Chuxing. [Photo/IC]
Chinese firm teams up with Daiichi Koutsu to tap opportunities in Tokyo
Chinese ride-sharing giant Didi Chuxing and Japanese taxi provider Daiichi Koutsu Sangyo Co Ltd are planning to launch application-based ride-hailing services in Tokyo, to better serve the growing number of Chinese tourists visiting Japan.
Nikkei Asian Review reported on Monday that the service is expected to be introduced in Tokyo as early as next spring. According to the report, the two companies are currently in talks on fares, operating procedures and other details, and Daiichi Koutsu aims to attract more Chinese visitors.
The Beijing-based ride-hailing firm plans to cover 500 of the roughly 8,700 taxies owned by Daiichi Koutsu across Japan, and the number is set to increase to a few thousands later. Didi will expand the services to target more areas in Japan through collaboration with other local taxi providers.
"As an open platform, we are exploring broad collaborative opportunities in Japan. But we do not have a timetable yet," Didi said on Monday.
According to official data, the revenue of Japanese traditional taxi industry reached more than 1.5 trillion Japanese yen ($13 billion) in the 2014 fiscal year. During the past two decades, the number of taxi users in Japan dropped 45 percent.
The declining fortunes of the traditional taxi industry has proved to be a challenge for new entrants like US-based Uber Technologies Inc, as it struggles to develop its model in Japan. Didi's move is expected to make it even more difficult for Uber to develop its local business.
A report released by China's online travel giant Ctrip.com said Chinese tourists made more than 6 million trips to Japan last year, with total spending exceeding 100 billion yuan ($15 billion). According to the report, Japan ranked third among the top 10 destinations for Chinese tourists, behind Thailand and South Korea.
To grasp opportunities brought by the tourist surge, Didi and Daiichi Koutsu will target regions favored by Chinese visitors, such as Tokyo, Osaka, Kyushu, Hokkaido and Okinawa, Bloomberg said.
The services introduced by Didi and Daiichi Koutsu will only allow customers to take rides via taxi cabs rather than private vehicles, as the local regulations prohibit unlicensed private vehicles from engaging in paid transportation.
Didi has expanded its overseas businesses to more than 1,000 cities across North America, South America, Southeast Asia and South Asia, with investments in ride-hailing platforms such as India's Ola, Estonia-based Taxify with operations in Europe and Africa, Careem based in Middle East, Southeast Asia's Grab, Uber and Uber's US rival Lyft.
"As Didi Chuxing has already taken the leading position in China's ride-hailing market, now it aims to go global and seek continuous growth in the oversea markets," said Zhang Xu, an ride-hailing expert.