Gregorious rips a pair of homers as Yankees complete unlikely comeback
CLEVELAND - The young Yankees were unshaken, resilient and as tough as the city they represent.
Didi Gregorius, following in the October footprints left by Derek Jeter, homered twice off Corey Kluber as New York beat the Cleveland Indians 5-2 in Game 5 on Wednesday night to complete a comeback from an 0-2 deficit in the Division Series and dethrone the AL champions.
The bend-but-don't-break baby Bronx Bombers, way ahead of schedule, staved off elimination for the fourth time this postseason and advanced to play the Houston Astros in the AL Championship Series, starting Friday night at Minute Maid Park in Texas.
With a blend of young stars and older veterans coming up big, the Yankees rocked Cleveland and bailed out manager Joe Girardi, who failed to challenge a key call in a Game 2 loss that threatened to sabotage New York's season.
"These guys had my back and they fought and fought," Girardi said. "They beat a really good team. What those guys did for me, I'll never forget."
The Yankees went 2-5 during the regular season against the AL West champion Astros, who are led by 5-foot-6 dynamo and MVP candidate Jose Altuve.
But none of that matters now to this group of New Yorkers.
After winning twice at home, and after Girardi said he "screwed up" and felt horrible about it, the Yankees - with little offensive help from rookie star and AL home-run champion Aaron Judge - came into Progressive Field and finished off the Indians, who won 102 games during the regular season and were favored to get back to the World Series after losing in seven games a year ago to the Chicago Cubs.
Cleveland's Series drought turns 70 next year - baseball's longest dry spell.
"Nobody wanted the season to be over," Indians manager Terry Francona said.
"It doesn't wind down, it comes to a crashing halt. It's disappointing. We felt good about ourselves. But we made it harder to win, especially in the last two games."
The Indians closed to 3-2 in the fifth inning against starter CC Sabathia before David Robertson pitched 2 2/3 hitless innings for the win.
Yankees closer Aroldis Chapman, who faced Cleveland in last year's spine-tingling World Series and signed an $86 million free-agent contract in December, worked two innings for the save.
Chapman went to the mound with a three-run lead in the ninth after Brett Gardner battled Cody Allen for 12 pitches before hitting an RBI single.
New York's fifth run scored when Todd Frazier raced home on right fielder Jay Bruce's throwing error.
Gardner's gritty at-bat was symbolic of these Yankees. They wouldn't give in.
"We can win a lot of different ways," Gardner said.
When Austin Jackson was called out on strikes to end it, the Yankees rushed to the mound to celebrate with a wide-eyed Chapman. An elated Girardi hugged his coaches.
The Yankees became the 10th team to overcome an 0-2 deficit to win a best-of-five playoff series. New York also did it in 2001, rallying to beat Oakland.
Gregorius, who took over at shortstop following Jeter's retirement after the 2014 season, hit a solo homer in the first off Kluber and added a two-run shot in the third off Cleveland's ace, who didn't look like himself during either start in this series.
One win shy of a Series title last year, the Indians had only one goal in mind in 2017.
They came up short again, and have now lost six consecutive games with a chance to clinch a postseason series.
The skid dates to last year's World Series, when they squandered a 3-1 lead to the Cubs.
Cleveland is the first team in history to blow a two-game series lead in consecutive postseasons.
Everything was set up for the Indians: Kluber on the mound, Game 5 at home, sensational setup man Andrew Miller rested.
But the Yankees wouldn't be denied. They battled back from a 3-0 deficit in the first inning of their wildcard game against Minnesota and then had to overcome a crushing loss in Game 2, when Girardi's decisions led to him being booed at Yankee Stadium.
But these Yankees displayed pinstriped pride.
Now they're moving on.
Associated Press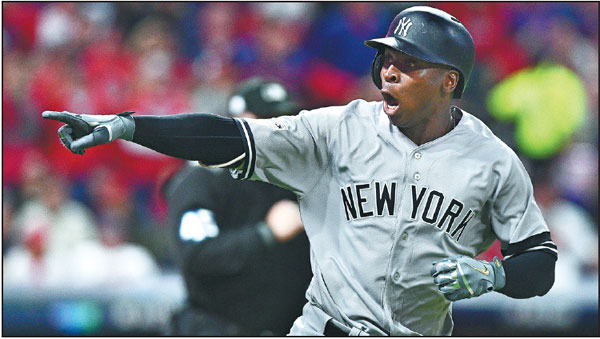 Didi Gregorius of the New York Yankees points to the dugout after blasting a two-run homer off Cleveland Indians starting pitcher Corey Kluber during the third inning of Game 5 of the American League Division Series on Wednesday in Cleveland.David Dermer / AP
(China Daily 10/13/2017 page24)