A forum focusing on Zhongguancun Development Group's achievements in technology and service innovation in the past year was held in Zhongguancun Innoz.com on Sept 28.
As the main platform for Beijing's efforts to build itself into a national science and innovation center, Zhongguancun Development Group has been devoted to transferring and industrializing technologies to ready them for the market.
Key projects, including Huairou Science Park–a sub-park of Zhongguancun Science Park, Jing-Jin Zhongguancun Science Park and Zhongguancun Medical Devices Park, were spotlighted during the forum.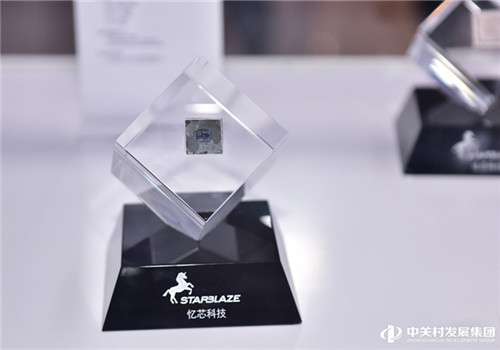 Starblaze Tech brought its high-tech products to the event. [Photo provided to chinadaily.com.cn]
High-tech products from more than 20 investment companies including CloudMinds and Starblaze Tech were on display at the event. An artificial intelligent (AI) company, ROOBO, and a health care company, Lingchuang Precision Medicine, shared their experience of project growth and discussed new trends in leading technologies.
The event also saw three projects signed. Beijing NanoMicro Energy Company signed a cooperation agreement with Wangying Technology to work on the micro-system integration R&D platform of Huairou Science Park, Huairou Science Park signed contracts with China Construction Bank, Industrial and Commercial Bank of China, China Development Bank and Bank of Beijing on credit-extension, and Zhongguancun Development Group inked a strategic cooperation agreement with Henan Investment Group, Zhongguancun Bank, Beijing Energy Investment Holdings Co Ltd and Beijing Enterprises Holdings Limited.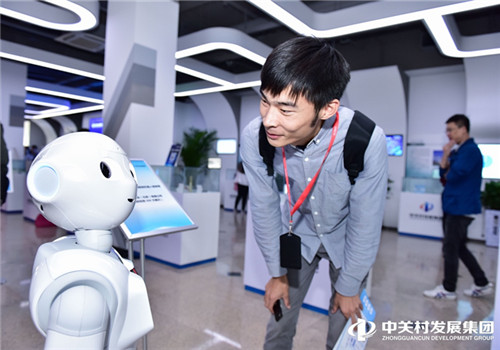 A visitor communicates with a robot during the event. [Photo provided to chinadaily.com.cn]
Zhongguancun has a strong backup of scientific research institutes, research universities and innovation-oriented enterprises. It's invested a total of 1,665 projects with value of 38.1 billion yuan ($5.74 billion), expected to bring an output value of 200 billion yuan.
To date, Zhongguancun has introduced 16 members into its overseas strategic scientist team. It's now setting about building a Bell Lab led by Zhang Xiang, an academician from the University of California, Berkeley.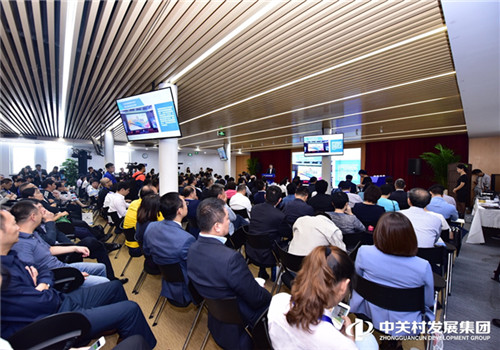 A forum focusing on Zhongguancun Development Group's achievements on technology and service innovation in the past year was held in Zhongguancun Innoz.com on Sept 28. [Photo provided to chinadaily.com.cn]