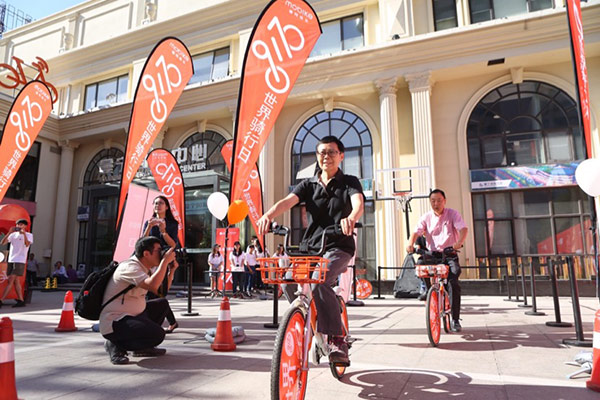 People ride bicycles in Beijing to celebrate World Cycling Day.[Provided to chinadaily.com.cn]
World Cycling Day was launched by the United Nations Environment Program, the World Resources Institute, Chinese bike-sharing company Mobike Technology Co Ltd and other international organizations to advocate cycling to improve the environment of cities.
2017 marks the 200th anniversary of the invention of the bicycle, and it also marks the return of the bicycle to more city streets. Over the past 500 days in China, where the dockless shared bicycle was invented, shared bicycles have grown to be the third most popular mode of transport in some areas after subways and buses, representing a profound change in urban ecology.
World Cycling Day will be commemorated every year on Sept 17. On this day, Mobike will work with partners to advocate sustainable urban development, encourage people to forgo the automobile in favor of cycling to reduce traffic congestion and air pollution, as well as to enhance their enjoyment of the city they live in.
Davis Wang, co-founder and CEO of Mobike, said:"We are pleased to be working with a number of partners to support World Cycling Day. Over the past 500 days, Mobike users have collectively cycled over 5.6 billion kilometers, equivalent to reducing carbon emissions by 1.26 million tons, reducing pollution and traffic congestion all through the convenience of cycling. Today's event marks a milestone in our vision of cycling changing cities."
Zhang Jinhua, UNEP representative in China, said: "We are very excited by this initiative. The United Nations Environment Program hopes to build sustainable transport systems, promote energy conservation and advocate for a sustainable lifestyle. We call on everyone to act together to work toward a 'zero pollution planet'. World Cycling Day will provide an important impetus for the realization of this goal."