Zhongguancun has stepped up constructing the economic structure featuring high-grade, precision and advanced, extruding its supports to the capital city's economic development. In 2016, the added value of Zhongguancun accounted for 25.1 percent of Beijing's total output value.
Intelligent manufacturing and sharing economy have brought new opportunities for Zhongguancun's high-tech manufacturing industry. "Internet Plus" drove the rapid development of intelligent transportation, science, culture and modern service industry.
Zhongguancun also backs the collaborative development between Beijing, Tianjin, and Hebei province. The Jing-Jin-Ji integration (Jing for Beijing, Jin for Tianjin and Ji is traditionally used to designate Hebei province) has been a national strategy since Feb 2014. The plan seeks to alter functions of the regions around the capital, easing Beijing's oversized population, congestion and pollution.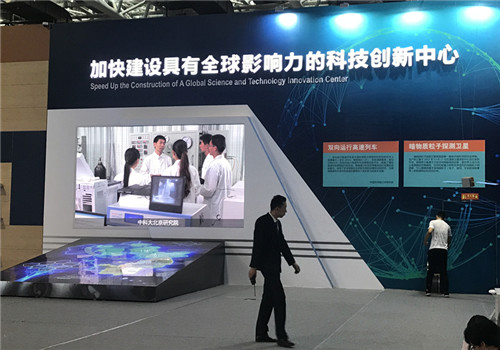 The Third National Mass Entrepreneurship and Innovation Activity Week's Beijing-themed exhibition gets underway on Sept 15. [Photo provided to chinadaily.com.cn]
In 2016, Zhongguancun companies signed 3,012 technical contracts with Tianjin and Hebei province with a total value of 13.64 billion yuan, seeing a year-on-year increase of 52.6 percent.
As a pioneer of the country's scientific innovation, Zhongguancun companies play their technical advantages on the construction of the country's Belt and Road Initiative. Major efforts have been seen on technical support to countries along the initiative on fields of infrastructure, financial services, energy conservation and environment protection, and Internet of Things communication devices.
Some 130 companies on the list of Fortune Global 500 set up subsidiaries and R&D centers in Zhongguancun by the end of 2016, including Intel Laboratory, Plug&Play and California Beijing Innovation Center. Zhongguancun companies have also established 535 overseas branches.
Edited by Zachary Dye